HOW TO STYLE YOUR WARDROBE
When it comes to our wardrobes, we are all guilty of making poor decisions, from holding onto out-of-date clothing that is rarely worn to impulsively purchasing items that will only be worn once. But it is not need to be that way. Wardrobe has always been a problem for some people. But when designed properly, wardrobes can be amazing. In this article, check out ways to make your wardrobes stylish.
Avoid buying for one occasion
IMAGE CREDITS: unsplash.com
We're all responsible for it, whether it's a wedding, a birthday party, or a Friday night dinner with friends. We inevitably feel as though we need to wear something unique, and hence something new, when we are going somewhere intriguing. Even if we may absolutely love the item we buy, we rarely utilize it more than once.
Balance proportions of your wardrobe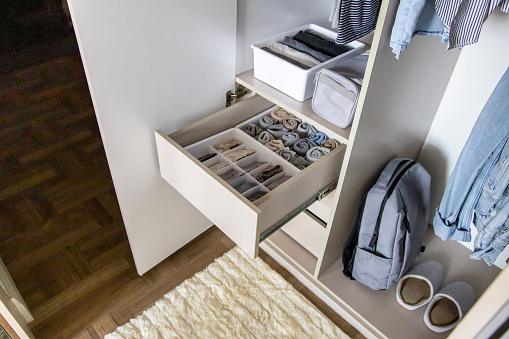 IMAGE CREDITS: istockphoto.com
It involves styling your clothes to achieve a sense of visual balance. Wearing clothing that is tailored to your body form is how you accomplish this. Make a fashion statement when wearing big clothing or unconventional forms by keeping the rest of your outfit tailored. Try wearing a tight crop top with wide-leg jeans or a blouse with a puffy shoulder with straight-leg pants, for instance.
Never buy that doesn't suit you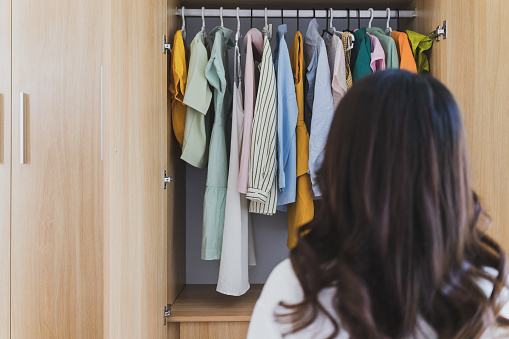 IMAGE CREDITS: istockphoto.com
In addition to hanging onto things that don't fit, many of us maintain things that we are aware don't fit us. We frequently make impulsive purchases of clothes because they are in style or because we believe they are great on someone else, but we never wear them because we just don't look good in them. If a piece of clothes doesn't make you feel confident and comfortable, it has no place in your life.
Buying because it's a bargain
Even while it's easy to get lured by a significant discount, you should only benefit from them if the item is something you absolutely need to add to your wardrobe, especially when it comes to designer pieces that are investments. Never buy something just because it's affordable. Purchasing something you won't wear is a huge financial mistake, regardless of how cheap it was.
Changing your wardrobe
IMAGE CREDITS: istockphoto.com
To maintain your wardrobe at a manageable size, use the one-in, one-out rule: if you add anything new, take an item out (and sell it or donate it to charity). Along with preventing your shelves and rails from becoming overloaded, it makes you considerably more cautious while making purchases. You'll never buy something until you utterly appreciate it since you'll have to part with a prized piece from your closet.
Cloth swapping with buddies
Friendship exchanges are a great way to keep your clothing feeling fresh. By getting rid of an item you haven't worn in a while and swapping it for a friend's unused item, you can adhere to the "one in, one out" rule (but you have always had an eye on). Whether you hold clothes-swap events with many people or just establish a contract with one buddy, trading clothes is an excellent method to have an interesting wardrobe without spending any money or harming the environment.
No unnecessary shopping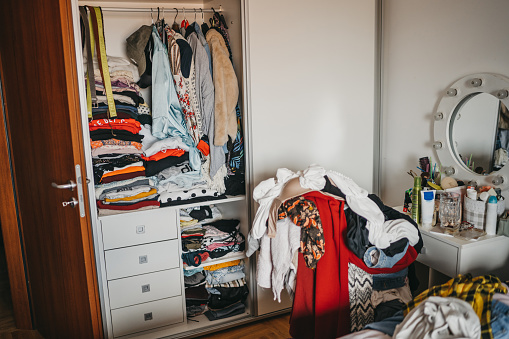 IMAGE CREDITS: istockphoto.com
A lot of the time, we feel like we have nothing to wear, don't like anything in our wardrobes, and are in fashion ruts. Whenever this happens, we frequently go on enormous shopping binges and end up spending a tone of money on precisely these trend-driven things that end up sitting in our wardrobes for years unworn. Before it gets this terrible, stop it. Instead, search for items all year long that you enjoy, and when you recognize what is lacking, make a list of it.
 New brands for your wardrobe
Another aspect that contributes to our propensity to become stuck in fashion ruts is our attachment to and familiarity with particular stores. Although it's wonderful to have a core group of brands you can trust to keep up well, there are always so many amazing new brands on the market that are just waiting to be discovered. Never stop exploring, from expensive mid-range businesses to high-end designer labels. You'll leave with some incredibly distinctive and stylish finds.
USEFUL LINKS
To know some top fashion for winters, check out: https://theperfectblogger.com/top-fashion-trends-for-winters/
To know winter holiday essentials which you must have, see: https://theperfectblogger.com/winter-holiday-essentials/