ESSENTIAL STATIONARY SUPPLIES
Office supplies and stationery are still necessary and essential even when offices have gone paperless and technologically transformed. You may believe  stationary is insignificant items, but you can see how  stationary is used all around the office, including at your desk, in the conference rooms, and even in the pantry. Can you picture without having a pen with which to sign documents or make notes, or not having a suitable drawer in which to store your paperwork? Simple chores like fixing typos and organizing paperwork can be accomplished more quickly and easily when using such stationery. As a result, it's crucial to provide your office with enough of stationery materials.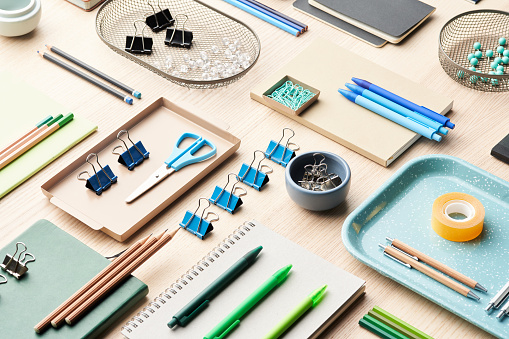 IMAGE CREDITS: istockphoto.com
LASER POINTER
Because every employee is required to give a keynote or PowerPoint presentation, the laser pointer was chosen as the first item.
A presenter's body becomes an extension of the laser pointer when used appropriately. It serves as a tool for focusing attention and aids in maintaining focus throughout a presentation, ensuring that everyone is informed and in agreement.
WHITEBOARD MARKER
PHOTO CREDITS: Unsplash.com
We frequently run out of whiteboard markers; I don't know about you.
We use it to perform design sprints and stay on the same page throughout meetings (which we do quite often).
Finding an economical yet useful whiteboard marker is so crucial.
CORRECTION TAPE
Scribbling over errors might make your writing look unkempt if you've made a mistake while writing. As a result, the reader can find your work difficult to read.
You'll need a useful correction tape to make your documents look tidy and professional. Correction tape is a white, opaque masking material that slides over paper without resistance and may entirely cover ink from pens and printers.
The advantages of utilizing correction tape over correction fluid are numerous. On a page, correction fluid could spread, overflow, or spill. Additionally, it needs time to dry and over time, it might even harm the paper.
NOTEBOOK AS A STATIONARY
PHOTO CREDITS: Unsplash.com
A notebook will come in handy whether you're taking notes for a meeting or simply need a place to write down your daily to-do list.
Although there is a large selection of notebooks available, we suggest a ring- or spiral-bound book. The bound edge of a notebook has deep creases from traditional stapled or glued spines. This may result in the papers tearing and disintegrating over time.
STAPLING MACHINE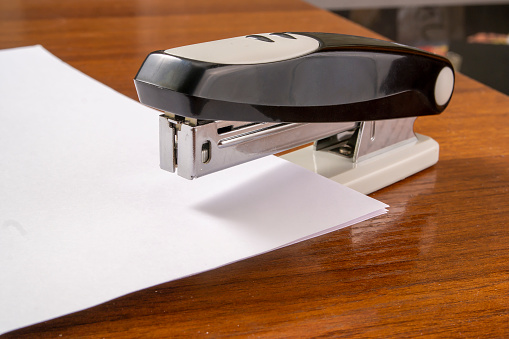 PHOTO CREDITS: istockphoto.com
Small staplers are good for joining two or three sheets of paper together, but the only office supply that will hold enormous stacks of documents is a heavy-duty stapler.
A good heavy-duty stapler can easily bind up to 210 sheets at once. In contrast to tiny hand-held staplers, they will cleanly and effectively bind your documents without creating creases, broken staples, or stapler malfunctions!
A heavy-duty stapler is the way to go because it requires less maintenance and has fewer user-related difficulties. Additionally, binding and stapling are not just applicable to papers. Its versatility makes it essential office stationery. The machine can even bind linen, silk, and even leather.
PAPER TRAY
Every office is familiar with the image of a messy desk filled with mountains of paperwork. The layer paper tray is therefore essential to have on every workstation.
A tiered paper tray helps you manage any documents you have, much as organizing your emails into separate folders, similarly to a physical replica of your inbox. Mail, significant contracts, and your to-do list are just a few examples of documents that can be organized into manageable piles and given the appropriate level of priority. The paper tray's stackable design makes the most of your desk space because it takes up minimal room while holding a variety of documents.
HIGHLIGHTERS AS A STATIONARY
PHOTO CREDITS: Unsplash.com
My particular favorite type of stationery is highlighters. The vivid colors make reading through lengthy passages of text much more enjoyable.
Use highlighters to draw attention to important phrases and points on a page. Highlighting such crucial passages also makes it simpler to read and identify when you quickly skim the text. Highlighting aids in summarizing important points.
You must get premium highlighters because lower-quality ones are more prone to spill, smear, or dry out too soon. High-quality highlighters frequently include two width options and are refillable.
CARD CASE AS A STATIONARY
Every contract, report, and document must be flawlessly presented to leave the best possible impression on your clients and customers. To avoid folding or tearing huge documents, nevertheless, can be particularly challenging when moving them from one location to another. It's crucial to keep these materials as wrinkle-free as possible.
For preserving their documentation in top condition, every workplace requires a sturdy card case. Additionally, it guards against damage or scrapes. It is ideal for certificates, drawings, and other paper documents and is available in a variety of sizes. Place your documents inside of this document case with a sturdy back to keep them organized and prepared for any presentation.
USEFUL LINKS
To know how to make time for your workout, see: https://theperfectblogger.com/how-to-make-time-for-the-workout/
To know benefits and drawbacks of electric cars, visit: https://theperfectblogger.com/benefits-and-drawbacks-of-electric-cars/