TOP FASHION TRENDS FOR WINTERS
A great variety of new fashion trends both on and off the runway are brought on by the numerous fashion shows that take place around the world. You can layer cut-out shirts, vivid greens, or cowgirl hats here; there is something for everyone. There are several outfits and design elements we've observed, from Instagram feeds to street style inspiration. Check out some top fashion for winters in this blog.
COLOR BLOCKING:  TRENDING FASHION
IMAGE CREDITS: Pinterest.com
This season, color blocking is huge, defying the conventional wisdom that wearing colors that contrast is unfashionable. These outfits are outlandish, vibrant, and not for the timid. Blend warm colors like orange and pink for a cool effect, or stay with cool hues like blue and green. While a duo-chrome costume is the most popular choice, adding a third or fourth hue to the mix adds intricacy and a little extra oomph to the overall appearance. Instead of adding more color to the apparel, consider wearing a colorful hat, bag, or pair of shoes for a pop of color.
BLACK TOPS
IMAGE CREDITS: Unsplash.com
Given that they are one of the season's more daring trends, these cut-out tops are a terrific addition to any wardrobe this year. This clothing can be worn with a number of accessories to make interesting ensembles in either the summer or the winter. Try wearing it with a suit, the perfect attire for scurrying around the city or the office. The sharp tailoring and the strappy, abstract shirt create the perfect contrast for a season in transition. As the temperature decreases, finding clothing with long or asymmetrical sleeves will keep you warm and be ideal for layering.
CORSET BELT: WINTER FASHION
Despite being an old fashion, the corset belt style frequently returns every few seasons. This belt is useful for cinching the waist with a variety of clothes, and this season knits, crops, and separates are popular combinations. A peplum that jets out from the waist is used in some of the most well-liked fashions by designers like Loewe to emphasize the hourglass figure. Also popular in the fashion world, burlesque looks are frequently worn with t-shirts, roll-necks, and dresses. You can avoid adding more embellishments like necklaces and earrings when you have such a striking piece as part of your attire.
COWGIRL HATS: WINTER FASHION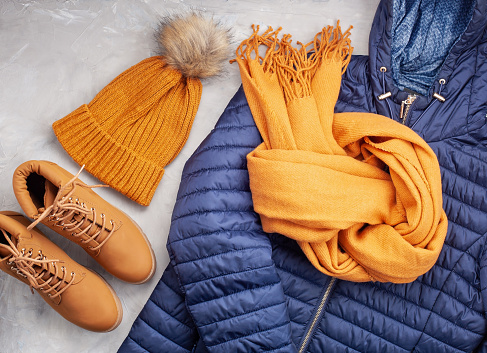 IMAGE CREDITS:  istockphoto.com
It makes sense that cowboy hats will become fashionable like cowboy boots did. On a day out with your friends, this adaptable item looks wonderful when color-blocking or highlighting a plain outfit. When paired with a suit of a like color, it can offer some more depth to an ensemble without being overdone. It's become a staple for admirers of the Gucci look while being little campy and absolutely stylish. Mix it up with fitted shirts, big blazers, and leather coats. The outfit will be excellent and photogenic and look great on your Instagram grid thanks to the slightly manly edge.
FRINGING
Fringe details add a tone of texture and movement to your regular-day attire. Frayed fabric is available in jackets, shirts, and skirts, but this season, wearing a coordinated outfit that moves with you is a popular option. Color blocking or wearing green everywhere work well with this fashion must-have, so you can combine it with other trends on this list. When it gets colder, wear a camel coat with a turtleneck and jeans, or go for a sweater, a fringed skirt, and boots for the ideal fall look. Because of its fantastical motion, this look looks great in photographs and can be worn at any time of the year.
DENIM:  WINTER FASHION
IMAGE CREDITS: Unsplash.com
Although the double-denim trend has come and gone and occasionally come off as a fashion faux pas. When done properly, this can be a fantastic appearance. This season, choose a patchwork or vintage-inspired oversized jacket and flared jeans—flares are a favorite choice among fashionistas. Try a little skirt and colorful stockings for a more '60s appearance, or wear a long coat. You may create a more complicated effect by mixing several fabric tones rather of sticking to a monochromatic look. The garment that was formerly known as the Canadian tuxedo has evolved into a wardrobe must.
USEFUL LINKS FOR WINTER FASHION
To know some best workout clothes, see :https://theperfectblogger.com/the-best-workouts-to-do-at-home/
To know some beauty tips, see: https://theperfectblogger.com/how-to-conceal-your-dark-circles-with-makeup/