SUMMER HOLIDAY ESSENTIALS
Packing is always simpler when you're prepared, whether you're spending a week at the beach or just a quick weekend away. You too can choose more sustainably. It's never been simpler to substitute eco-friendly versions of popular vacation goods, from sunglasses to beach towels. Here are our top picks for sustainable packing for summer travel.
DAYPACK FOR SUMMERS
IMAGE CREDITS: Unsplash.com
Once you get there, you'll want a simple, light-weight backpack to keep all your necessities in.
We adore Millican's line of daypacks, which are made to be used in all weather. And whether you're hiking or taking a casual mini-vacation, they will last because they are weatherproof and durable.
SUNGLASSES
IMAGE CREDITS: Unsplash.com
Sunglasses like those made by Bambooka are ideal for shielding your eyes from the sun's rays. An unusual fashion company run by volunteers is called Bambooka.
Their affiliated charities receive a direct donation of all revenues. One of them, People Empowered Preserved Earth (PEPE), aids those living in rural South Africa's poverty. The other is a global organization called Vision Aid Overseas that promotes life-altering eye care.
The frames from Bambooka are made of toxic-free Moso bamboo.
Sending your damaged old pair back to Bambooka will save you 25% on your purchase of a new pair.
Select from a variety of colors, styles, and pocket configurations. Which aspect of them is our favourite? 100% post-consumer plastic trash was used to create the material.
WATCH TO PLAN YOUR SUMMER PLANS
IMAGE CREDITS: Unsplash.com
To keep you on schedule, a reliable watch is a necessity. Beautiful Scandinavian watches from Nordgreen's line give style to any holiday look.
Danish watch designers draw on their Nordic heritage to produce chic watches with a clear sustainability focus.
Their durable, environmentally friendly watches are created with premium components that are designed to last a lifetime. Each of them also gives money to one of three NGOs of your choosing. The company uses packaging that is FSC certified and is carbon-neutral.
FOOD WRAPS FOR YOUR SUMMER TRAVEL FOOD
Making your own food when travelling is one of the finest ways to cut costs and be more environmentally conscious. Want something lightweight and convenient for carrying sandwiches or storing leftovers? Buy a colorful package of BeeBee & Leaf Wraps.
BeeBee Wraps, first created with beeswax, have recently extended to include plant-based wax LeafWraps, which have been endorsed by The Vegan Society.
Without using clingfilm, you can store food and packed lunches with the help of these lovely, award-winning wraps. They are also reusable!
WETSUITS FOR SUMMER
IMAGE CREDITS: Unsplash.com
Going to the beach but a little concerned about the water's temperature? The wetsuits from Finisterre will keep you warm in the water if you wish to go swimming.
Finisterre is the first outdoor company in the UK to be certified as a B-Corp, and it produces goods that are good for the environment.
Men's and women's Nieuwland 3e Yulex Wetsuits are constructed with a variety of materials, including Yulex PureTM, a natural rubber product from an FSC-certified supplier. From April 28, 2021, it will be offered.
The outside fabric and lining both contain recycled polyester.
FLIP FLOPS IN SUMMER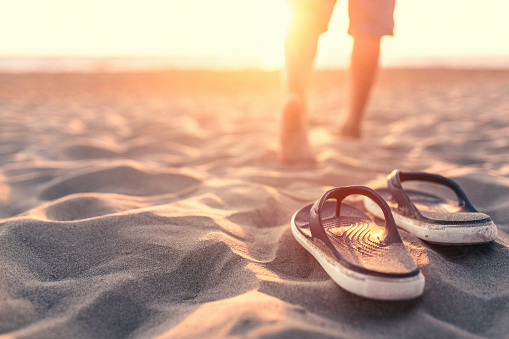 IMAGE CREDITS: istockphoto.com
Ocean Refresh's distinctive line of environmentally friendly shoes, which are produced entirely from recycled ocean plastic, is helping to reverse the trend of plastic waste. The ideal option for new summer footwear.
A must-have green necessity, the brand's new Spring/Summer collection elevates the basic flip-flop. Each pair contains up to 24 single-use bottles and up to 1 kilograms of ocean plastic trash.
We adore the selection of colorful colors, including Starfish Pink and Dune Yellow. Additionally, they include an OceatexTM sole that is cushioned for comfort, are anti-bacterial, and anti-abrasive properties. They are unquestionably necessary summer travel necessities.
SHAMPOO BARS FOR SUMMER
The best travel option is shampoo bars. They help you pack lighter because you don't have to worry about liquid restrictions, spills, or even those wasteful single-use small toiletries made of plastic.
With up to 80 washes, weDo's No Plastic Shampoo Bar offers professional performance hair care. You can easily attach it to your bag because it is also really lightweight.
When you travel, your hair endures a lot, including pollution, heat, humidity, and being on the go. weDo makes your packing list somewhat more environmentally responsible while ensuring that your locks are taken care of with the least amount of effort.
USEFUL LINKS
Dark circles are annoying for all. Well, me might have something for you. Go check out: https://theperfectblogger.com/how-to-conceal-your-dark-circles-with-makeup/
To beneficial bugs for your veggie garden, see: https://theperfectblogger.com/beneficial-bugs-for-your-veggie-garden/
NOTE: Credits for the featured photo: istockphoto.com