Choosing the Best Camera for Your Child
It's never too early to start, and finding the best camera for your kids can be a terrific way to encourage creative engagement while having fun. With a best camera in hand, kids are liberated to discover their surroundings and make lifelong memories of the people and places they encounter.
However, it can be difficult than it may seem to choose the perfect camera for your youngster. You can choose from a broad variety of children's cameras, some of which are perfect for growing older kids and others of which are made exclusively for smaller children.
To assist you in selecting the camera that will best suit your child, we have tried, tested, and searched the internet for the greatest kids' cameras at the best costs.
Fujifilm Instax Mini 11: best kids cameras
IMAGE CREDITS: Unsplash.com
The Instax Mini 11 from Fujifilm makes instant photography simple and available to everyone. This round-edged camera, which comes in a variety of six colors, fits smaller hands perfectly and makes lovely prints.
The sole user-controlled aspect of the camera is the option to activate the optional selfie mode. The minimum focus distance in selfie mode is 0.3 meters, and there is even a small mirror next to the lens to ensure that you are in the picture.
The prints, which are about the size of a credit card and take around 90 seconds to develop, are perfect for putting in albums or sharing with loved ones.
VTech Kidizoom Duo 5.0
The Kidizoom Duo is the ideal first camera because it was created especially for young children. It has 5MP sensors on both the front and back, a 4x digital zoom, built-in effects, and it can even record videos.
The Duo's controls are logically organized, with big buttons for the shutter release and lens selector on the grips and a zoom wheel on the back. Either the 2.4in LCD screen or the binocular viewfinder can be used to frame photos.
Additionally straightforward and user-friendly, the menu system provides access to a variety of filters and effects for images, videos, and voice recordings. Even a variety of built-in games are available.
Fujifilm Instax Mini Evo: best kids cameras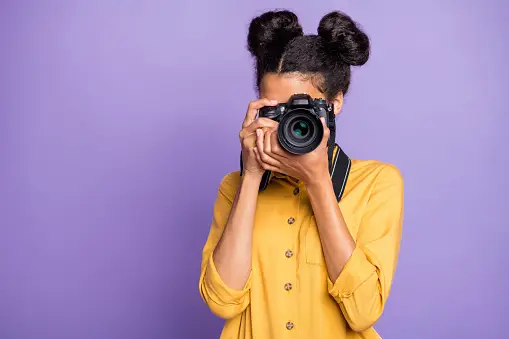 IMAGE CREDITS: istockphoto.com
The hybrid Fujifilm Instax Mini Evo provides all the excitement of instant photography without any of the customary uncertainty. The Evo is a hybrid instant and digital camera that takes 4.9MP images that can be saved to a computer, printed on Fujfilm's credit card-sized Instax Mini film, or shared on social media via a smartphone app.
Instead of wasting expensive film on misfires or photos where someone has their eyes closed, the Evo allows images to be examined on the rear LCD display before printing. This is in contrast to most other instant cameras, which start printing as soon as the picture is taken.
Canon IXUS 185: best kids cameras
Compact cameras have had difficult few years, with camera phones virtually consuming the entry-level market. The Canon IXUS 185 is a very capable point-and-shoot camera, though, and it can compete with more expensive smartphones.
It has a 20MP sensor and can generate great, high-resolution photographs. It also has an 8X optical zoom, which gives it an outstanding range of vision. It isn't exactly bursting with features because it is an entry-level compact, but it is specified for the price. It has amazing minimum focus distance for close-up macro pictures, face detection auto focuses, and smart auto mode.
Canon EOS 2000D
IMAGE CREDITS: Unsplash.com
Beginner photographers wishing to purchase their first "real" camera can choose Canon's EOS 2000D. The 2000D is a real DSLR with an optical viewfinder, manual settings, and support for the whole line of EF lenses from Canon.
There are totally automatic modes for novices that include intelligent scene settings for food photography, night photography, sports photography, and more. Additionally, manual modes and built-in creative filters are available for individuals who want to enhance their creativity. The 2000D can connect to your smartphone over Wi-Fi using the Canon Connect app and supports Full HD video recording as well.
Apple iPhone 8 (Refurbished): best kids cameras
The finest tiny camera may possibly be a phone, as smartphone camera technology advances with each new generation. Apple's iPhone 8 was the best smartphone when it arrived and continues to take excellent pictures and movies even if it is no longer the flagship model.
It has a 12MP primary camera, a 7MP selfie camera. It supports up to 4K video recording. A wide variety of photo programs are available on the App Store for iOS devices, and sharing photos online is simple.
Harman Reusable 35mm: best kids cameras
The reusable has replaced the disposable. Despite the fact that you can still purchase a vintage disposable, prices have been rising recently. Single-use cameras have long been a must-have for children on holiday shopping lists. the Harman Reusable comes in.
It functions just like a typical single-use camera; the only distinction is that it may be reloaded. It is made completely of plastic, making it lightweight and portable but sturdy enough to give to a child. There is a shutter button, a wheel for winding the film, and a switch to turn on or off the flash, making it quite simple in terms of features. Simply point and shoot now.
Polaroid Now
IMAGE CREDITS: Unsplash.com
Teenagers' bedrooms have been adorned with the iconic white-bordered Polaroid print for decades. Few cameras can match Polaroid's classic design, while the Fujifilm Instax Mini 11 (also included in our collection) is a little more affordable instant choice.
A straightforward point-and-shoot instant camera, the Now stays faithful to Polaroid's OneStep tradition. It has automatic exposure with exposure compensation, auto focus, a flash that can be turned on and off, and an optional double exposure mode. 
The images are precisely what you would expect from a Polaroid: drool-inducingly soft, vibrant, and brimming with retro elegance. Additionally, the prints are substantially bigger than what you would get from an Instax Mini camera from Fujifilm, making them perfect for exhibiting.
USEFUL LINKS: