Senior Photoshoot: Top tips you should consider
Graduation involves more than just crossing a stage and hoisting your cap in the air. It marks the beginning of your new chapter in life. Whether you're a college graduate or a high school senior, a senior photo session may be much more than just the corny yearbook shot on picture day. Purchasing senior pictures gives you the ability to record the highlights of this period of your life for future reflection. For the best senior portraiture advice, keep reading.
Investment of many kinds: Senior Photoshoot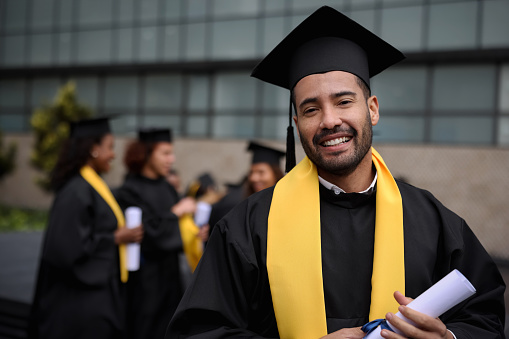 IMAGE CREDITS: istockphoto.com
Senior pictures aren't simply for your graduation announcements or to improve your Instagram feed, although in our opinion, either of those reasons is plenty in and of itself. To perfectly capture who you are at this point in your life, you can completely customize your photo session.
Make a list of your interests and pastimes. There are countless ways to include things you adore in your photographs to further enhance their individuality. Take pictures of the activities you most enjoyed doing while in school, whether you were involved in a club, a group, or a sport. Your photographs will reflect real excitement and joy, capturing the true you.
Regarding careers… You can also get a couple professional headshots for your résumé, LinkedIn profile, or social media during your senior session. Choose a neutral background for your session and a straight-on smile for the standard headshot. You can also choose more relaxed lifestyle images, which are great for adding variation to your professional web presence.
Being proud of your school. If you have a strong sense of school pride, this is your last opportunity, before you graduate and become an alumnus, to proudly display your school's colors, give the school's hand sign, and document the "good old days" while you still have them.
Show your interest and passions
The focus of your senior portrait session is you! During your session, your family may join you for a few family shots, but the most of the photos will focus on you and your achievements. You probably feel most confident in what best represents you!
Bring an item to represent your sport, such as a ball, jersey, or hat, if you were active in athletics. the band? your instrument with you.  Art? Bring some of your work or your supplies with you. Yearbook? Take a camera with you. Show off your proudly earned patches if you have a letterman jacket!
Planning beforehand: Senior Photoshoot
IMAGE CREDITS: Unsplash.com
The senior portrait session is not the time to put off doing something (like you did on that term paper ), because everyone in your class is graduating at the same time.
As graduation draws closer, college students may find it more difficult to take photos on campus. Your campus probably has a few popular photo locations, including a landmark, statue, or sign that seems to be the focus of everyone's attention.
By making a plan in advance, you can obtain the photos you want without feeling rushed or pressed for time.
Regarding your photographs, consider the weather as well. If your campus is lush and green, springtime, when the grass is verdant and the flowers are blooming, can provide the ideal backdrop.
The spring season is typically the busiest for senior sessions, so plan ahead to secure the photographer of your choice and have your photographs ready in time to order and notify family and friends of your graduation.
Fall is a fantastic season for senior portraits, particularly if you're graduating that semester. Additionally, there may be less competition for shots in the most popular locations during this time of year, making it the ideal time to capture the gorgeous autumn colors.
Add props: Senior Photoshoot
IMAGE CREDITS: Unsplash.com
Props are a great way to add variation to your images during your senior portrait photography session. It can be unsettling to have your picture taken alone, but never worry! With the greatest postures and suggestions to help you stand out, your senior photographer has you covered. Including items in the mix will assist give your session even more posing alternatives and distinctive photos.
You can rejoice in front of the camera by holding placards, tossing biodegradable confetti, and, if you're graduating from college, popping some champagne. Don't forget your cap, gown, stole, and any cords, of course. We advise carrying a jacket or dress shirt to throw on over your attire for a close-up shot if you want to squeeze in a headshot.
If you intend to bring a change of clothes, let your photographer know so that they can factor in your changing time. If you're bringing a variety of props, we suggest bringing a friend or family member along to help carry your necessities. Bring any cosmetics, a tiny mirror, a comb, or anything else you might need for a fast touch-up.
Choosing right location
Traditional senior photo sessions used to conjure up images of dull backgrounds, artificial lighting, and stiff posing, but nowadays they are thrilling experiences that go along with your degree that you worked so hard to obtain.
Take into account that your senior pictures are more of a lifestyle session. Take your photographs outside of the studio so you can capture your life anyway you want to. It might take place at one of your favorite places on campus, in the middle of your city or town, or even at the coffee shop where you used to stay up late studying.
Keep your clothing simple: Senior Photoshoot
IMAGE CREDITS: Unsplash.com
Bring nothing that has logos, wild prints, words, stripes, or images on it. The focus should be on your face, eyes, and expression rather than the shirt's emblem.
Additionally, check to see that the color of your undershirt matches the rest of your outfits and doesn't peek through. Please bring a strapless bra if you require one to your session. You may not always be able to tuck or move straps, and you probably don't want a hot pink bra strap showing.
USEFUL LINKS:
Keep on hovering to know more: