7 PET-FRIENDLY DINNER RECIPES YOU MUST TRY AT HOME
Sometimes it can be hard to cook a pet-friendly dinner. Your pet may not like what you cooked. To make a delicious pet-friendly dinner, we are here to help you. Find in this article  seven best pet friendly dinner recipes that you must try to at home. Moreover, these pet-friendly recipes are simple to cook. Go ahead, give your furry friend a treat.
TURKEY-RICE CASSEROLE: Pet-friendly dinner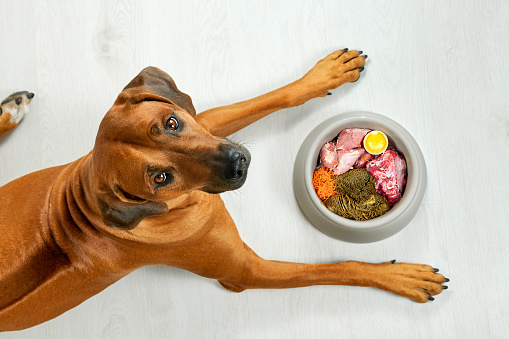 IMAGE CREDITS: Unsplash.com
INGREDIENTS
2 to 3 cups of uncooked white or brown rice
Olive oil, 3 tablespoons
3 pounds of turkey, ground
4 cups (or more) of defrosted frozen vegetable medley, including corn, peas, carrots, and green beans
DIRECTIONS
Cook the necessary quantity of rice in a big pot as directed on the package. Place aside.
In a sizable stockpot, heat 1 tablespoon of olive oil before adding the turkey. Cook for about 5 minutes at medium heat until browned.
Add more vegetables if you'd like and stir in.
Add rice after transferring to a sizable mixing bowl. Add the remaining 2 tablespoons of olive oil and the gravy (see below). Mix well.
Spoon into containers or plastic bags. If you won't consume it within three days, freeze it.
DELICIOUS GRAVY FOR YOUR PET: Pet-friendly dinner
IMAGE CREDITS: Unsplash.com
INGREDIENTS
Drips of meat
6 cups of stock or water (vegetable, chicken)
corn-flour, 3 tablespoons
water, 3 tablespoons
DIRECTIONS
Cornstarch and 3 tablespoons of water should be thoroughly mixed.
Slowly pour this mixture into the meat drippings. Then, while still stirring, gradually add 6 cups of water or stock.
Heat to a rolling boil.
Reduce heat to medium-low and let gravy thicken. Continuously stir.
Turn off the heat when the desired thickness is obtained. Add the desired amount to the meat. Leftovers should be frozen or chilled.
SAVOURY STEW WITH ROASTED VEGGIES: Pet-friendly dinner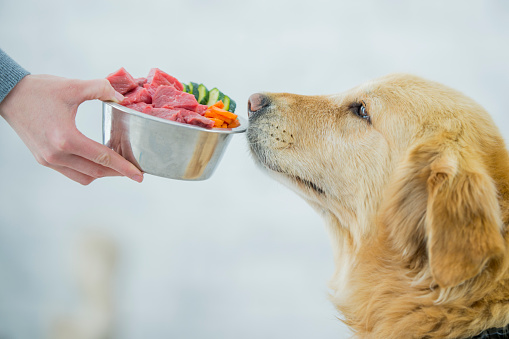 IMAGE CREDITS: Unsplash.com
Most people find solace in tucking into a warm, comforting bowl of deliciousness when the weather gets cool. Perhaps our dogs do as well? The stew is the ideal meal to prepare on a chilly winter evening.
INGREDIENTS
1 pound of turkey, chicken, or beef ground up
1 large potato, chopped after peeling
1 large sweet potato, diced after being peeled
3–4 teaspoons of coconut oil or olive oil
1 medium carrot, chopped after being peeled
Water 1/2 cup of frozen peas
Directions
In a roasting pan, combine the potatoes, sweet potatoes, and carrots. Drizzle with 1 to 2 tablespoons olive oil. Mix well. Place in a 350°F oven for roughly 60 minutes, or until tender, gently browned, and roasted. Place aside.
2 tablespoons of oil are used to sauté the meat in a big pot until it is fully done. Discard the fat instead.
Include the carrots and potatoes. Mix well.
Make the dish soupier by adding 3 cups of water. 35 minutes of simmering after a 35-minute boil.
Peas should be prepared as directed on the box. Toss with the meat and veggies. Together nicely.
After cooling, serve. If you won't consume it within three days, freeze it.
SOOTHING CHICKEN WITH RICE: Pet-friendly dinner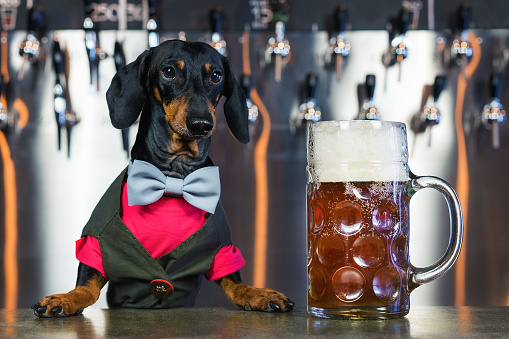 IMAGE CREDITS: Unsplash.com
A bowl of heated chicken and rice will do wonders for your dog's upset stomach when they're not feeling well.
INGREDIENTS
one cup of white rice (uncooked)
3 chicken breasts, preferably organic, that are boneless and skinless
DIRECTIONS
Rice should be prepared as directed on the package. Don't season or add any broth. Set apart.
Put chicken breasts in a pot and add enough water to cover them completely. For about 12 minutes or until the chicken is thoroughly cooked, cover and boil on high heat.
Chicken should be taken out of the pot and shredded.
combine with rice. If you won't consume it within three days, freeze it.
CALMING CHICKEN BROTH: Pet-friendly dinner
A dog parent's recipe collection must include broth in addition to boiled chicken and rice. This is fantastic to spoon over just about any other food, add over chicken and rice, or enjoy on its alone.
INGREDIENTS
1 cooked entire chicken
2 big carrots
two big potatoes
1-rib celery
Water
DIRECTIONS
Purchase a pre-roasted chicken or roast your own. Allow to cool a bit.
Chicken should be de-skinned, then chopped into pieces. Put in a big pot.
Add potatoes, celery, and carrots to the chicken after washing and roughly chopping them.
Lots of water should be used to cover all the components.
Until it boils, cook it on high. Cook for two hours at a simmer before covering the pot. If more water is required, add it, and check it frequently to make sure it doesn't boil dry.
After letting it cool, skim the fat from the top.
Chicken and veggies should be removed. Strain the broth to get rid of any trash.
Use within three days after storing in glass jars. Extras should be frozen in freezer bags or containers.
TURMERIC DOUGHNUTS FOR YOUR PET: Pet-friendly dinner
IMAGE CREDITS: Unsplash.com
Although not really doughnuts (they are more akin to biscuits), these treats are not only delicious but also packed with healthy nutrients.
INGREDIENTS
Whole-wheat flour, 1 cup
Unsweetened apple sauce in a half-cup
1/4 cup baking powder
1 egg
1 cinnamon stick
Turmeric, 1 teaspoon
Coconut oil, 1 tbsp
1 teaspoon of honey
water, 3 tablespoons
DIRECTIONS
Set oven at 350 Fahrenheit. Using coconut oil, grease a doughnut pan.
To a food processor, add all the ingredients. Process until the mixture is completely smooth.
Pour half of the mixture into the doughnut pan. Alternatively, you might spoon the mixture into a plastic food storage bag, cut a hole in the corner, and squeeze the mixture onto a non-stick cookie sheet to form doughnuts.
bake doughnut in a doughnut pan for 16 minutes. Check all at 14 minutes.
remove doughnuts from oven, frost and cool.  Add turmeric.
Keeping covered, place in refrigerator.
Frosting
a serving of whole milk, two (cow or goat)
2 teaspoons of pureed pumpkin (not pumpkin pie mix)
Add some turmeric.
TABLE SCRAPS: Pet-friendly dinner
INGREDIENTS
0% Raw, boneless, or ground turkey meat (for added nourishment, utilize the less appetizing parts such the gizzard and/or heart, sometimes known as turkey giblets).
raw turkey liver at 5% (also part of turkey giblets)
10% Uncooked Turkey feet or neck (sub chicken neck or feet for smaller dogs)
5% plain, cooked pumpkin or sweet potatoes (can use unsweetened canned puree)
5% gently steamed spinach
2% ground pumpkin seeds
1% of unsweetened fresh or dried cranberries (NOT RAISINS)
2% Raw/unsweetened kefir, optional topping: dog-friendly bone broth
Directions
Spinach, cranberries, pumpkin seeds, sweet potato and/or pumpkin, and blend until smooth in a food processor. If necessary, add more water, kefir, or bone broth to reach the desired consistency.
Combine the turkey meat, liver, and edible bones in your dog's bowl. Add the ground pumpkin seeds and pureed sweet potatoes, then pour kefir and/or bone broth on top.
Feed in a location that can be quickly cleaned, such as the outdoors, your dog's crate, or a surface that can be mopped. Don't allow your dog to trample your carpet or climb up onto your couch with raw meat. After your dog has eaten, make sure to scrub the bowl and the area around it thoroughly.
USEFUL LINKS:
To know how to make smarter choices about your pet's health, see: https://theperfectblogger.com/your-pets-health-how-to-make-smarter-choices/
Some credit card tips you need to remember: https://theperfectblogger.com/credit-card-tips-you-need-to-know-your-finance-guide/