DIY PET TOYS: IDEAS TO MAKE YOUR FURRY FRIEND HAPPY
Who doesn't want to make his furry friend happy. Well, we've got some amazing DIY pet toys ideas to help you and your friend. These DIY pet toys ideas are enjoyable and fun. Moreover, the DIY pet toys are simple. Get ready to turn the idle time into joy and game-full session.
 Flirt pole: DIY pet toys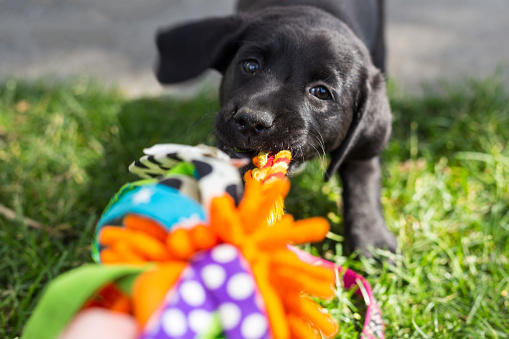 IMAGE CREDITS: istockphoto.com
Flirt poles are a terrific option, especially for high drive dogs, as most dogs like chasing. Your dog will get a lot of activity from a brief 5-minute game with a flirt pole.
Use PVC pipe as the rod if you have any lying around. If not, you can create one as I did in the yard using a long stick. You'll also need some rope or bungee cord, which can be purchased from hardwood supply stores. If you want to avoid jerking your dog's neck when they catch the toy, you might use rope. Anything from a plush animal to an empty water bottle can be considered "prey."
If you're cheap like me, connect your bungee or rope material to the end of the pole instead of threading it through the PVC. You should have the rod at least three to five feet away from you. If you're using PVC, tie a knot in one end of it so that it won't come undone when being thrown around.
Plastic bottle dog toy: DIY pet toys
Dogs adore crunch, and plastic bottles provide some really gratifying crunches. If your dog is a strong chewer, take sure to watch them closely while they play with this toy. Simply wrap a plastic bottle with your own sock or fabric to create your own DIY plastic bottle toy.
Rope and tennis ball toy: DIY pet toys
IMAGE CREDITS: Unsplash.com
My dog and I enjoy playing tug of war. It's among the physically and intellectually taxing games out there, minute for minute. The good news is that you can quickly create your own tug toy with a tennis ball and a length of rope if you don't already have one at home.
To make this easy DIY dog toy, you'll need a tennis ball and some rope. Simply drill or cut a hole into each side of the ball that is just big enough to accommodate the rope. Fit the ball into the rope's Centre and secure it with a few knots.
Tennis ball puzzle
Looking for a super easy way to keep your dog entertained? Make a simple muffin pan puzzle with tennis balls for him. Dog puzzles and basic food-dispensing toys are excellent ways to provide your dog with additional mental stimulation. The best part is that assembling this muffin tin puzzle is quite simple. Just place some goodies in the muffin tin and hide them with tennis balls. You now have your very own DIY dog puzzle, so there you have it.
T-shirt into braids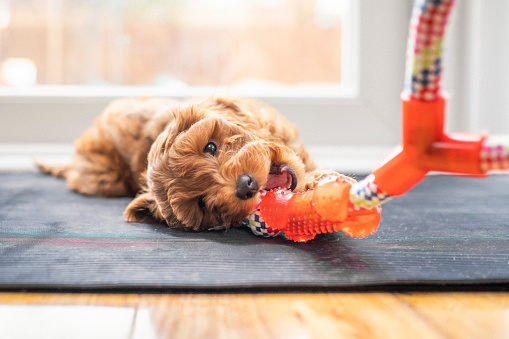 IMAGE CREDITS: istockphoto.com
This toy is easy to construct and works well for retrieve and tug games. Just a few t-shirts and some scissors are required.
Tennis ball with treats
In search of a ridiculously easy DIY dog food puzzle? To get started, simply cut open a tennis ball and stuff it with snacks.
Rope ball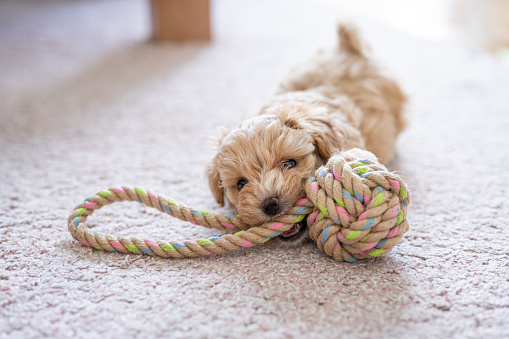 IMAGE CREDITS: istockphoto.com
Does your dog quickly destroy the majority of his toys? If so, you are not by yourself. Try this straightforward rope ball if your dog likes to chew on stuff. When playing with this toy, just remember to keep a watch on your dog since if they start tearing the rope apart, it could become a choking hazard.
Interactive feeder
Use a food toy during mealtime to keep your dog cognitively stimulated. Food toys are a terrific method to keep your dog's mind busy.
Denim dog toy
Do you have any worn-out jeans around? Create a straightforward, no-sew denim toy for your dog rather than making another pair of cutoffs.
Make old t-shirt into tug toy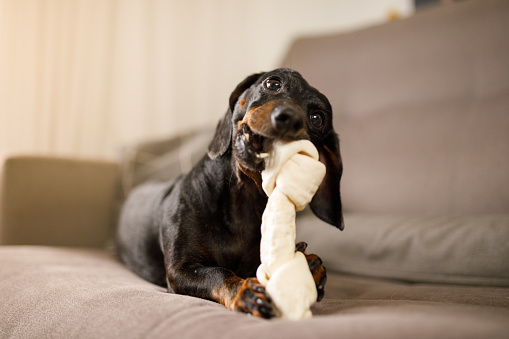 IMAGE CREDITS: istockphoto.com
Contrary to popular belief, playing tug of war with your dog won't make him aggressive. Just be sure to establish a few ground rules and guidelines beforehand, such as "the game ends if I feel teeth on my hands."
Agility jump: DIY pet toys
With this simple agility jump, you can give your dog more training in the backyard or, if you're feeling particularly daring, in the living room. With the use of white and blue furniture grade PVC pipe and other furniture grade PVC fittings. It's crucial that you have a PVC pipe cutter, are familiar with how to use it, and carefully cut each piece in accordance with the directions (the long white pipes, which will be the ground bar, need to measure 47 inches long). You'll have extras for later projects if you follow the instructions.
Part treat-part game: DIY pet toys
It is both a toy and a treat, and it is very cute. Although a nice silicone mold is needed for these simple, three-ingredient frozen yoghurt dog treats from Dalmatian DIY, any shape will do as your dog will be preoccupied with devouring them. In a bowl, combine half a cup of yoghurt with half a cup of unsweetened applesauce or apple puree. Ceylon cinnamon can optionally be added. Serve with a smile after thorough freezing!
Chewing toy: DIY pet toys
IMAGE CREDITS: Unsplash.com
If your dog would prefer a chew toy, we offer everything you need. You can make a truly adorable toy with this Real Housewives of Minnesota method that will also hold up for a few days without the stuffing leaking out. Just some highly durable material and some creativity will do.
Water bottle and t-shirt: DIY pet toys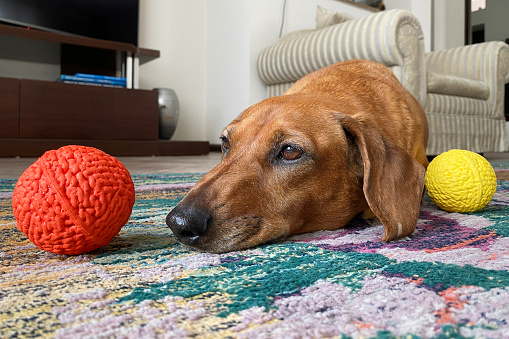 IMAGE CREDITS: istockphoto.com
You can make use of an old T-shirt to keep your dog occupied for a while. You ask how? Of course, you wrap a plastic bottle in it. The plastic bottle will provide all the sounds that amuse dogs, and the T-shirt will give it some temporary protection, extending its lifespan.
Fox-tail toy
If you have some tennis balls, some durable fabric, and a fox tail-style toy, you can build it rather easily. You won't have paid much for the toy itself, but your dog will undoubtedly be thoroughly entertained.
USEFUL LINKS:
We've for you some delicious recipes for how to cook a best chicken soup. See: https://www.care.com/c/17-diy-dog-toys-how-to-make-fun-safe-toys-f/
How to make homemade ice cream? To know, click: https://theperfectblogger.com/how-to-make-homemade-ice-cream-on-your-own/