OFFICE EQUIPMENTS
You will require standard office supplies like phones, laptops, and networking equipment if you're setting up a business office or making sure your home office is completely equipped. Make certain you have all the necessities. In this article, find all the essential office equipment.
COMPUTERS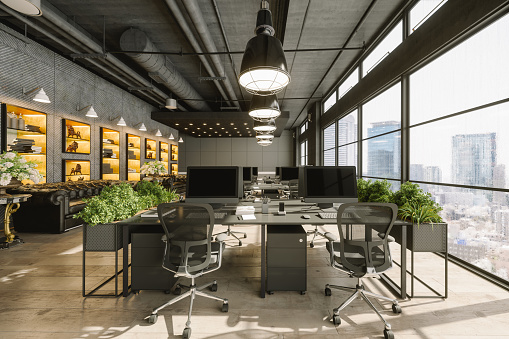 IMAGE CREDITS: istockphoto.com
Any successful organization relies on information to function. Investing in and adopting the appropriate computers and software for your company is essential to maximizing the value of information. Investigate systems for data backup for your company as well. There are several internet services accessible right now that will spare you from spending money on safe and dependable office backup equipment.
Laptops
You have more mobility with a laptop computer since you can take your work with you wherever you go, including conferences, meetings, and other on-the-go situations. Laptops are reliable enough to function as a primary computer for all but the most memory-intensive tasks thanks to advancements in storage, display, and computational power.
Monitors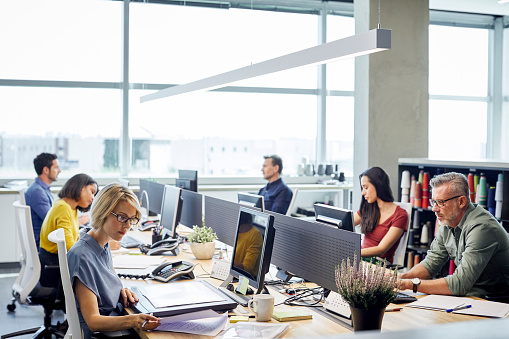 PHOTO CREDITS: istockphoto.com
To make working on desktop or laptop computers easier, computer monitors can be attached as the primary or secondary display. Larger displays also make it simple to share your screen with others in the space, which is useful for meetings and presentations.
TELEPHONE
Using the phone to communicate with clients and suppliers is a widespread practice. It will be easier to purchase the appropriate size phone system for your business at the appropriate pricing if you are aware of the services, features, and options that are offered with your business phone.
Smartphone
You can use a Smartphone to check your business email and make calls from any location. It can also assist you in remaining punctual and organized. You can work effectively and efficiently using a seemingly endless array of Smartphone business apps.
Landlines
PHOTO CREDITS: Unsplash.com
Larger businesses with numerous staff that need to communicate with clients and one another frequently will find landlines to be especially beneficial. When your company employs a landline phone system, it is simple to direct calls to the right person.
INTERNET
PHOTO CREDITS: Unsplash.com
If information is the lifeblood of a corporation, computer networks are the veins and arteries, delivering information via the internet to every department. For your company's internet connection, you'll need a router and Ethernet connections. You also need a modem, which requires Internet service from a provider, to connect your network to the Internet.
SOFTWARE FOR OFFICE COMPUTERS
Without operating system software, computers are unable to assist you. Depending on the kind of business you run, you'll need different kinds of software, although almost all businesses require access to spreadsheet and word processing program.
Security software
Your security software, which guards your computers and networks from spam, viruses, and hackers, is another essential piece of software. Firewall protection, antivirus software, and authentication software are essential when working with sensitive information since cyber attacks cost the U.S. economy billions of dollars each year.
PRINTER FOR OFFICE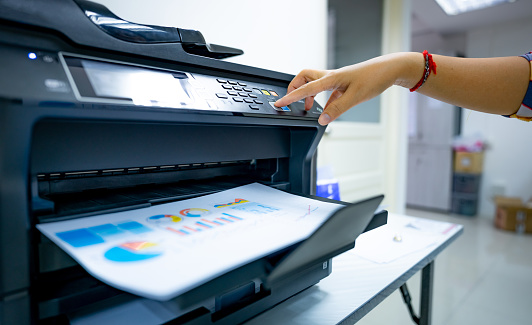 PHOTO CREDITS: istockphoto.com
Paper is still valued and used regularly even if information is organized, managed, and moved electronically. If it was electronic, we'd like to print it. If printed, it ought to be scanned. A single, all-in-one gadget, like an all-in-one printer, can do it all, saving you time and money.
SHREDDER
Paper must be destroyed just as rapidly as it is produced. Whether it's a client's sensitive documents, an employee's personal information, a customer list, or a private letter, your organization is responsible for the information it has. Before something goes wrong, you can securely delete important material using a paper shredder.
MAILING EQUIPMENT FOR OFFICE
Billing statements, product samples, brochures, and documents are just a few examples of what could be mailed from your business. Scales and postage software, among other mailing tools, can help your business save time and money.
FURNITURE FOR OFFICE
PHOTO CREDITS: Unsplash.com
Of course, you need desks and tables for your office furniture, as well as seats for you and your staff to sit on. Adding to the list of essential office furnishings are bookshelves, filing cabinets, and storage units.
USEFUL LINKS
Want to know top 10 cars in the world, click: https://theperfectblogger.com/top-10-most-popular-cars-in-the-world/
To know pros and cons of buying a used car, see: https://theperfectblogger.com/advantages-and-disadvantages-of-buying-a-used-car/