Packing tips for a trip for a hassle-free journey
Packing is crucial. You'll be dissatisfied and forced to search for the closest store in your destination if you forget a vital item. If you overpack, you'll get disorganized, suffer from heavy bags, and lose money on expensive airline baggage costs. As a result, we decided it would be appropriate to go through the most fundamental and helpful packing rules once more. Here are some essential packing tips that everyone traveler should know.
Prepare a packing list
Image via Unsplash.com
One area where procrastinators fall short is packing. It will give you ample time to prepare a thorough list and purchase any additional items you may need if you start packing days or even weeks before your departure. You can be guaranteed that you will never, ever forget to pack something crucial by creating a packing list.
Airline's baggage policy
Any packing technique aimed at saving money must include understanding the airlines' complex and perplexing baggage fees. While most airlines allow passengers to check at least one bag when flying internationally, the majority of U.S. airlines charge exorbitant fees for luggage checked while flying domestically.
Before you begin packing, check out the baggage policy on your airline's website. If you're certain you'll be checking a bag or two, you might even want to do this before purchasing your plane ticket.
The packing rule of 3-1-1
Image via Unsplash.com
What happens if you disregard the Transportation Security Administration's (3-1-1) carry-on luggage guidelines? Try to bring a huge bottle of shampoo or a full-size gel deodorant past the security checkpoint, and the TSA will probably confiscate your items, delaying you in queue. Learn the policies of the organization: 3.4-ounce bottles or smaller and a single, transparent, quart-size zip-top bag are the only acceptable containers for liquids to be transported into airplanes.
It also helps to be aware of which goods fall under the TSA's definition of liquids or gels and are thus subject to the 3-1-1 rule. It's not as easy as it seems. Gels include foods like peanut butter, custard, mashed potatoes and frosting. Aerosol products, lip gloss, and mascara are also categorized as liquids or gels. But bear in mind that prescription liquid medication is an exception.
Personal items
Each traveler is typically allowed to bring one carry-on bag and one personal item onto aircraft. Although there are precise size restrictions for this personal item (which vary by airline), a handbag, laptop bag, or backpack are typically acceptable options.
Washing clothes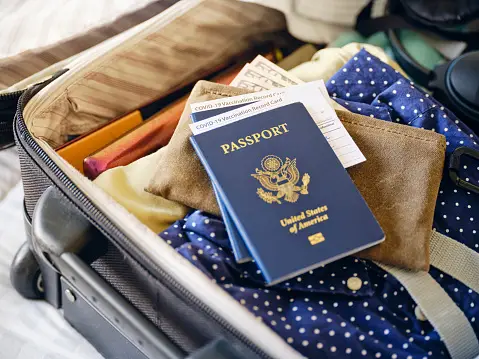 Image via Unsplash.com
One of my favorite things about renting a vacation home is the laundry room. You're set if you know that your accommodations will offer complimentary laundry services. Even very long excursions can be completed with just a small number of clean, wearable clothing.
If you're staying at a hotel, phone ahead to inquire about the availability and pricing of laundry services. Travelers can wash their clothing in sinks and hang them up to dry if they are staying in accommodations without laundry facilities or are on cruises (Laundry services on cruise ships are notoriously expensive.).
Garments with dual purpose
If anything has two uses, bring one less thing. Multipurpose items are worth their weight in baggage fees, such as slacks that can be worn as shorts or a jacket that doubles as a travel pillow.
Packing and wearing layers
Image via Unsplash.com
Wear layers and carry layers, are the two components of this advice. First, having a lot of layers in your travel wardrobe can allow you transition across various climates in comfort and style. Second, for quick screening, the stuff in your luggage should be organized in layers.
Packing valuable stuff in carry bags
It is crucial that you pack your valuables and essentials in your carry-on bag rather than your checked luggage. Always bring your valuables, such as your passport, ID, money, credit cards, jewelry, and electronics, on the plane. You already know why it's crucial to always keep your wallet and passport on you.
Packing travel documents separately
Ensure that none of your trip documents are tucked away too deeply in your suitcase. Always keep the paperwork file in your carry-on bag. Make a soft copy folder with all the documents in it and store them there to be on the safe side.
Rolling and not folding clothes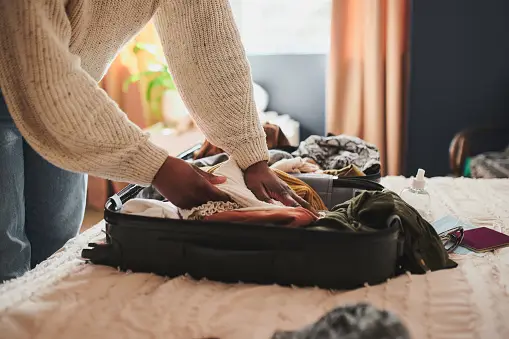 Image via Unsplash.com
Clothes that are folded take up more room than those that are rolled. This is due to the fact that it forces air out of folds, maximizing the utilization of the space that is available. Correct rolling technique can also guarantee less creases in your clothing.
Pack jewelry in a container
Jewelry should be kept in smaller spaces and containers. Roll your jewelry inside a microfiber cloth and put little jewelry pieces in a pill organizer to keep it safe while travelling. Always spend money on a quality jewelry roll or case.
Prefer travelling light
A minimalist backpack can work as a carry-on if you're not taking a long journey or can get by with very little. When the time comes, you can grab the slim profile, which has room for a laptop, a change of clothes, and a few travel necessities. For convenience, it also includes a USB charging connector and a headphone jack.
Use hotel amenities
Image via Unsplash.com
Nowadays, almost all hotel rooms come equipped with an iron, an ironing board, a small refrigerator, a microwave, and a hairdryer. In most situations, even if you choose a budget hotel, you will still have access to a coffeemaker, hairdryer, and iron.
Save space by using the equipment you'll find there rather than packing all of your little appliances when you travel.
Mixing and matching outfit
To maximize your packing space, mix and match your clothes. You can play around with the idea of the ultra-chic capsule wardrobe when travelling.
You may create 16 different ensembles for your trip if you only bring four shirts and four pairs of trousers that go well together. You might think of it as a travel-friendly capsule wardrobe.
USEFUL LINKS: