High Paid Salary Courses after 12th Science
Students have many options for navigating their careers once they have completed the 10+2 in science. The majority of students, however, choose the traditional path and try to enrol in engineering or medical programs. Other students, on the other hand, put forth a lot of effort to research alternate career possibilities. Regardless of it, all chose high paid courses. High paid courses requires many eligibilities. But to help you out with everything, we have a list of high paid courses after 12th which you must chose.
MBBS: high paid courses
IMAGE CREDITS: Unsplash.com
One thing that both groups of aspirants—those who do not want to study engineering or medicine and those who want—still have in common is the possibility of a career. Every single student aspires to enrol in a course of study that will equip them with the skills necessary for a fulfilling career with a bright future. Following earning a scientific diploma in the 12th grade, PCM offers a number of lucrative courses. Unfortunately, because of poor guidance and comprehension, students frequently make bad career decisions.
NEET 2022, which is run by the National Testing Agency and is regarded as the starting point for admission to the MBBS program and other medical programs, attracted 18.72 lakh students. 8.70 lakh of the students who showed up for the exam passed. These numbers reflect the degree of competition as well as the students' passion for studying medicine. Only the best of the best passes the exam and are allowed to enroll in medical schools.
Eligibility:
A candidate must have received at least 50% in the four sciences of physics, chemistry, biology, and English in order to qualify for the position.
B.E./B. Tech: high paid courses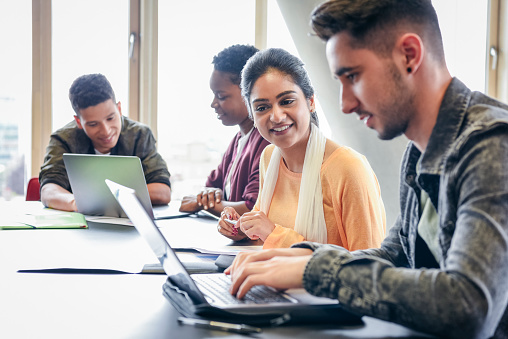 IMAGE CREDITS: Istockphoto.com
The most sought-after courses worldwide, not just in India, are the Bachelor of Engineering and Bachelor of Technology (BE/B.Tech) degrees.
Info about the course
Depending on the country, a B.E./B. Tech course can run anywhere from three to five years. It is a 4-year course in India that consists of 8 semesters and a project in the last year. Prior to now, students may choose from the fundamental four engineering specializations: mechanical, electronics and communication, computer science, and engineering science. Today, there is a lot of interest in the domains of computer and electronic engineering.
The introduction of technologies like Data Science, Artificial Engineering, Machine Learning, the Internet of Things (IoT engineering), Instrumentation engineering, Robotics, etc., however, led to the emergence of numerous new engineering topics for the students during the earlier period.
Eligibility:
A potential applicant must have passed the higher secondary school English, Arithmetic, Physics, and Chemistry exams.
The entrance exams, which are held annually at the national (JEE Main), state (Maharashtra CET), and institutional levels, must be passed by the applicant (KIIT).
BBA: high paid courses
IMAGE CREDITS: Unsplash.com
This course is fairly well-liked because the majority of BBA graduates either finish their studies or plan to pursue an MBA after graduation. Contrary to popular belief, a student pursuing a BBA is NOT needed to pursue an MBA. A three-year BBA program is offered after the intermediate test.
After finishing science in their intermediate, students who want to start their own firm or who have the aptitude for further business studies should definitely enroll in a BBA program. Among the courses taught to BBA students include finance and accounting, marketing, organizational behavior, statistics, and business economics.
Eligibility:
Various colleges have varying cut-off scores for applications, based on their rank. A pupil must achieve the necessary cut-off scores for that college.
To be accepted into the BBA program, a candidate must successfully complete an entrance exam and/or interview at various institutions and universities.
Bachelors of Law (LLB): high paid courses
IMAGE CREDITS: Unsplah.com
The three-year LLB program prepares students for a career in law. The LLB program serves as the starting point for students interested in a career in law. Science students can also pursue an LLB, even though many students in the fields of commerce and the arts do so. This is mostly because studying law needs students to have strong analytical abilities and remarkable logical reasoning.
Numerous colleges offer BA LLB or even BBA LLB program with a five-year total duration. The course is governed by the BCI, or Bar Council of India. Any student majoring in law should therefore confirm that their college has received BCI approval. The communication skills of applicants should be nearly flawless in addition to their analytical and logical reasoning abilities.
Eligibility:
In India, there are two different types of law program: the conventional LLB program, and the Integrated LLB (BA LLB or BBA LLB).
For the standard LLB program, a graduate degree is required, and the program lasts three years. While the integrated LLB only takes 10+2 students and has a 5-year course requirement.
An applicant must have passed their higher secondary test in any stream to be considered.
Various colleges have varying cut-off scores for applications, based on their rank. A pupil must achieve the necessary cut-off scores for that college.
LSAT, CLAT, TS-LAWSET, and AILET are a few of the admission exams that thousands of students take each year.
Bachelors of Statistics: high paid courses
IMAGE CREDITS: Istockphoto.com
The B.Stat, or Bachelor of Statistics, is built on a foundation of statistics, mathematics, and some computer applications. Some universities offer this three-year program.
The top college in India to study statistics is the Indian Institute of Statistics. Students who want to major in statistics study the application, methodology, and theory of statistics at the well regarded college, which offers placement opportunities in both the private and public sectors.
Eligibility:
Statistics courses are now in high demand in the job market. As a result, Statistics is a popular choice for graduation among students with aptitude for mathematics and strong data interpretation abilities. The requirements are as follows
An aspirant applicant must have passed their intermediate Mathematics or Statistics test combined with English in any stream (science or commerce are the most common).
Various colleges have varying cut-off scores for applications, based on their rank. A student must get the required cut-off marks for that college.
The statistical institutions annually administer a number of very significant national level exams.
USEFUL LINKS:
Check out best professional courses:
Want to be intelligent? Check out these books:
Learn everything about CDS examination: