Fun work party ideas for your staff: workplace to a fun-place
Long stretched working hours cab be really tiring. One needs to make workplace to a fun-place. to make your workplace a fun, you need some fun work party ideas. For work party, you need nothing special; just some crazy and funny ideas. Work party can be amazing. In this article, find some fun work party ideas for your staff.
Social cause: work party
IMAGE CREDITS: Unsplash.com
Social causes are dear to Millennials and Generation Z. In fact, social causes are growing in popularity across all generations, so it makes sense that office parties would incorporate them into the fun.
Why it's a good workplace party game: A charity office party is fun and effective at fostering a positive workplace culture. Your employees will be proud to be a part of the top businesses because they improve the world.
Christmas party: work party
Playing Christmas-themed party games is one of the finest ways to get everyone in the holiday mood. Office Christmas party games are a fun way to get people talking and encourage engagement among co-workers and employees.
Why it's a good workplace party game: Office Christmas party games make your event more exciting and competitive. Attendees can participate in a range of games, from easy icebreakers to challenging team-building activities. Have some prizes on hand to give out to the winners of whatever game you decide to host.
Have fun in virtual office party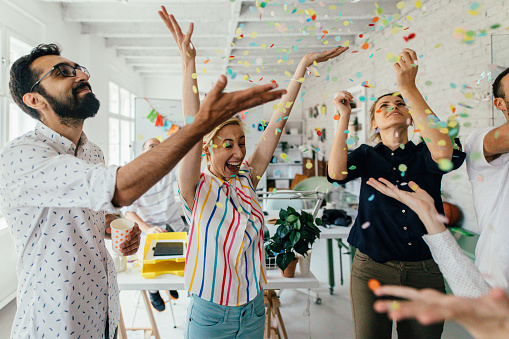 IMAGE CREDITS: istockphoto.com
Throwing a Virtual Office Party is the ideal method to bring everyone together, even if it's just to celebrate behind a screen on Zoom, whether a pandemic is separating your team or your company needs your workforce to be dispersed throughout the globe.
Why it's a good workplace party game: Who says you have to be present to dance, play, and party like it's 1999? Co-workers can get to know one another's quirky, entertaining, and occasionally wild side through a virtual office party.
Use your preferred conference calling service to host your own Virtual Office Party, or choose an interactive host to guide you through virtual games.
Organize a game show in office
Come on down to be our next lucky contestant! Your next office party will be more fun with an office game show! They may be altered to match your party's theme and are excellent for team development. The possibilities are unlimited because there are so many various types of games that may be played in this format.
Why it's a good office party game: Office game shows are great for boosting morale and fostering a sense of camaraderie. They mix the excitement of a game show with the camaraderie of the workplace. Additionally, the fact that they are related to old game shows will make participating co-workers feel a little bit nostalgic.
Solve a murder mystery in office party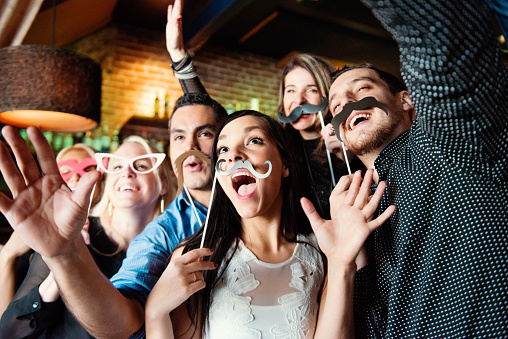 IMAGE CREDITS: istockphoto.com
Have you ever binge-watched documentaries on serial killers or cold cases? Just something about trying to solve a crime is intriguing. Why it's a good workplace party game: The ideal method to introduce the eerie, odd, and fascinatingly macabre into the workplace is with a murder mystery office party.
An office scavenger hunt
If you opt to organize teams, an office scavenger hunt is a simple method to get everyone involved in the competition or working together. Increase the stakes by awarding the winner a truly great employee gift to make this a thrilling corporate party concept!
Why it's a good workplace party game: The top office gathering games are accessible to all players thanks to their modest entrance requirements! Scavenger hunts are a type of game that everyone has participated in since they were young, unlike poker or other skill-based games.
Holiday office party: work party
Try a shippable experience, where you and your co-workers will each receive a party kit to create a memorable event with your co-workers, if you're looking for something a little out-of-the-box for your next holiday work party. Why not try something new with the people you've been working so hard with all year? It's the season to give thanks for everything we have.
Why it's a good workplace party game: These party in a box activity are an original way to connect and have fun with your co-workers over an activity that is engaging and simple to get started on. They are ideal for teams with employees that work remotely, part-time, or from home.
Have a happy hour in office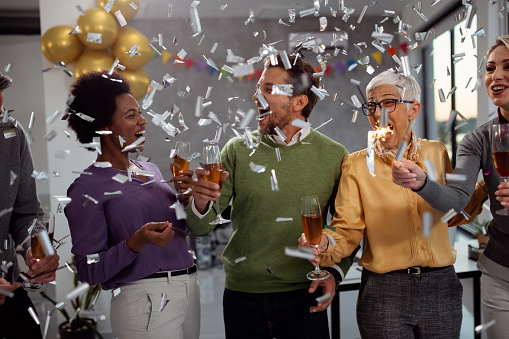 IMAGE CREDITS: istockphoto.com
The best part about Happy Hour is that it happens every day of the week. If your office has that kind of a fun-loving culture, you may celebrate Happy Hour every month, Hell, you can hold one every week!
Why it's a good workplace party game: Nothing brings people together and raises spirits like alcoholic beverages. They are called spirits for a reason, after all! Nobody will want to miss your Happy Hour if you serve snacks and appetizers.
Bring your pets: work party
Like food, pets are essentially a sure thing. When there are fur puppies running around and acting so lovely, it's difficult to not have an impossible wonderful time.
Pets make things more enjoyable, less stressful, and happier, which is why it's a wonderful work party activity. Just make sure to ask if anyone in the office has allergies to pets so you can prepare.
An office stage show: work party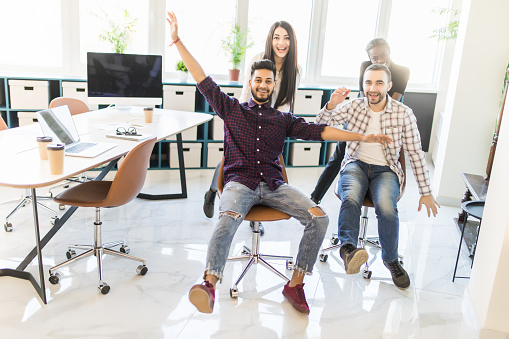 IMAGE CREDITS: istockphoto.com
An office talent show is the perfect opportunity to get to know your employees better. This offers everyone an opportunity to shine when the lights are brightest at work and show off their hidden talents.
Work without any play is just not fun, but an office talent show provides everyone their moment in the spotlight, so that's why it's a good work party activity.
A basketball tournament
A Mini Basketball Hoop Tournament can be held whenever you want! Even during the workweek, every day may become a party with the help of this entertaining office party game.
What makes this a good work-related idea: Mini Hoops is so much fun because it's straightforward and allows players to get some exercise while competing!
Holiday sweaters: work party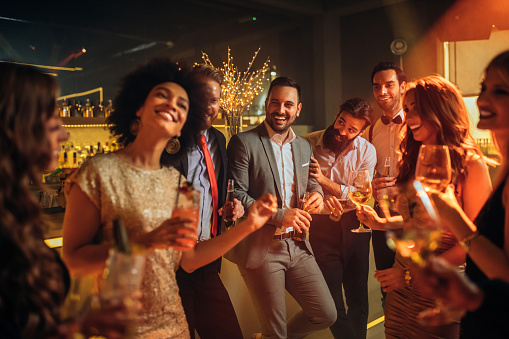 IMAGE CREDITS: istockphoto.com
Holiday ugly sweater parties are intended to break up the serious tone and monotony of day-to-day corporate hustle and bustle, much like white elephant gift exchanges.
Why this is a fun theme for a company party: People can be as silly, carefree, and playful as they like when wearing holiday sweaters. It brings the goal of a judgment-free workplace one step closer.
USEFUL LINKS:
You no more lack party ideas for your office, click:
Buzz your workplace with fun and party, see:
Here's some songs to motivate and set you in mood:
We have some cost efficient techniques for your business:
Grow you business with these podcasts