MAKE YOUR OWN DOG FOOD AT HOME: EASY AND SIMPLE RECIPES
The ability to manage the ingredients means there is no worry about dog food recalls, which is one reason homemade diets are becoming more and more popular. Additionally, a lot of individuals are making an effort to eat healthier, and they want their dogs to do the same. Some people choose homemade diets because they include real foods, which are typically seen as healthier than commercial dog food.
Homemade beef stew for your dog: dog food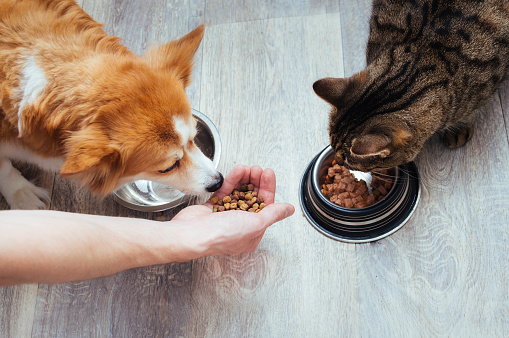 IMAGE CREDITS: istockphoto.com
A great homemade dog food for your pet is beef stew. Thanks to the beef, it is high in protein and fat, and the veggies give your dog the vitamins and minerals that they require. Four cups of this recipe should be enough to feed your dog for two days.
Ingredients:
1 tiny diced tomato, 1 sweet potato.

One pound of stew beef
1/2 cup flour
1/2 cup of green beans, diced
1/2 cup water
Vegetable oil, 1 tablespoon
Directions:
The sweet potato should first be microwaved. The potato should become firm and tender in around 5 to 8 minutes. Set it aside once it is finished.
The beef stew meat should be cut into smaller pieces. Then, over medium heat, sauté them in a tablespoon of vegetable oil. The meat should be thoroughly done, ideally. It should take 10 to 15 minutes to complete this.
Beef should be taken out of the pan. Keep the drips for later.
Before adding flour and water, warm up the drippings over a low heat.
Until a thick gravy is produced, whisk the ingredients together.
the sweet potato into dice. Along with the beef, carrots, and green beans, add this to the gravy. To coat, stir.
Cook the carrots for 10 minutes, or until they are soft.
Before serving, allow it to cool. The leftover stew can be kept in the refrigerator for up to 5 days.
Homemade pumpkin biscuits for your dog: dog food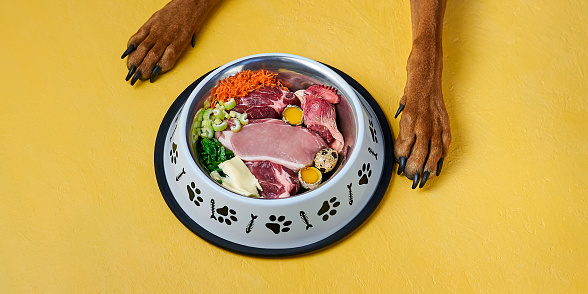 IMAGE CREDITS: istockphoto.com
For dogs, this is a fantastic treat. It will assist your dog develop regular eating habits in addition to satisfying their cravings. After all, pumpkin is a fantastic source of fiber. In fact, dogs that experience episodes of constipation or diarrhea are frequently advised to consume a tablespoon of pumpkin blended with their regular food.
Ingredients:
1/2 cup of iced water
1/3 cup of pureed pumpkin
2 cups of brown rice flour from complete grains
One big egg
2 1/2 tablespoons of olive oil or flax seed oil
If your dog has an egg allergy, you can omit the eggs. Up to 24 1-oz balls can be made using this recipe.
Directions:
Set the oven's temperature to between 320- and 350-degrees Fahrenheit.
To keep things from sticking, use some baking sheets and parchment paper.
The beaten eggs and pumpkin should be combined thoroughly in a different container. If you don't want to use it and your dog has an egg allergy, just puree some pumpkin instead.
Brown rice flour and flax seed oil are combined in a sizable bowl. Add the rice mixture, followed by the pumpkin mixture, then water slowly. You can later use the leftover rice as cookie toppings if there is some.
Mix the ingredients by hand, then spread out the dough to the desired thickness between two sheets of baking paper.
Pour the rice flour over the dough's top after removing the top baking sheet. It to the buttered baking paper, lightly pressing.
After removing the paper, slice the cookies into your favorite shapes.
Cook these for 30 to 40 minutes in the oven. When the top of the cookies is fully dried, you'll know they're done.
Prior to serving, cool.
All in one bowl: perfect homemade food for your dog: dog food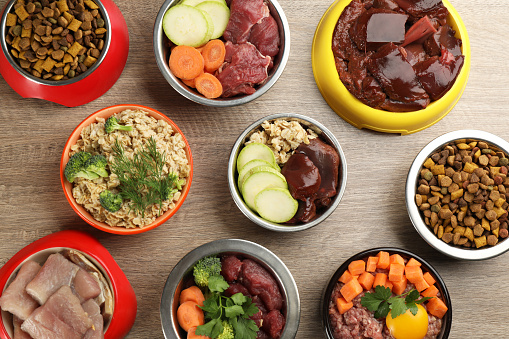 IMAGE CREDITS: istockphoto.com
Given the inclusion of beef, chicken, and turkey in this dish, your dog should benefit from a substantial number of proteins. The potatoes and rice used in this meal will provide him with a significant amount of carbohydrates. And I can guarantee that this dish will satisfy him.
Ingredients:
One pound of ground beef is required.
Ground turkey and chicken each weighing half a pound
Small carrots, 1 pound
two little potatoes
3 beaten eggs
three cups of chicken stock
Brown rice, 3 cups
2 glasses of water
Directions:
In a 6 quart Dutch oven, cook the beef, chicken, and turkey simultaneously. Rice, chicken broth, and chicken are added. Cook for 30 minutes at medium heat.
Add the eggs, potatoes, and carrots. 20 more minutes of cooking.
Once finished, transfer the mixture to a container for storing. Serving cold.
You shouldn't have any trouble making this dog food for your pet because it is quite straightforward. This ought to feed your dog for two to three days, in my opinion.
Homemade chicken jerry for your dog: dog food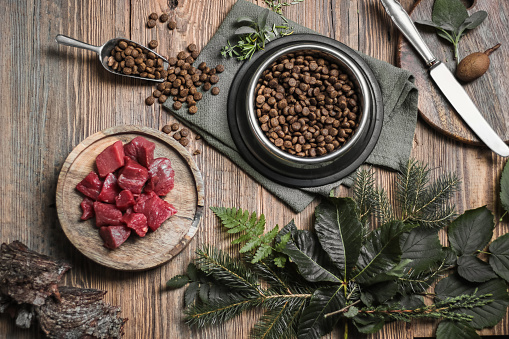 IMAGE CREDITS: istockphoto.com
Do you fear that the chicken jerky sold in stores will harm your dog? Maybe you're worried about those items' high additive and preservative content. Why not make your own then?
Ingredients:
4 to 6 chicken breasts
potatoes sweet (if you want your dogs to have a healthy, vegetarian alternative)
Directions:
200 degrees Fahrenheit should be the desired oven temperature.
Chicken should be free of extra fat. With the breast turned to the side, cut it into 1/8-inch-thick strips with a paring knife.
On a baking sheet, arrange the strips.
3 hours of baking.
Take the chicken out of the oven once it has become firm and dry. Before serving, let it totally cool.
The jerky can also be kept in the refrigerator in an airtight container. Additionally, before cooking the chicken, you might choose to freeze it. You should find it much simpler to cut it now. This ought to continue for 4-5 days.
Homemade chicken dinner for your dog: dog food
IMAGE CREDITS: Unsplash.com
Ingredients:
5 lbs. of chicken
Red cabbage, two cups
2 skinned apples
spinach, two cups
5 complete eggs
2 teaspoons of olive oil
Directions:
Prepare a saucepan that is the right size after chopping the chicken. It should come to a boil.
Add the remaining ingredients after lowering the heat to a simmer. As soon as the chicken is done, let it simmer.
Take the pot out of the stove. When it's cooled, toss in the eggs and oil.
The leftovers can be refrigerated after being kept in an airtight container. The meal ought to be okay for your dog to eat for up to five days.
USEFUL LINKS:
Want to know some DIY dog costumes interesting ideas, visit: https://theperfectblogger.com/diy-dog-costumes-interesting-ideas-you-must-try/
Want to know how to make homemade ice cream, click: https://theperfectblogger.com/how-to-make-homemade-ice-cream-on-your-own/