Top weapons during the Vikings era: The Combat Army
The Vikings are also frequently connected with their weapons in addition to their ships. Weapons were essential for self-defense and on raids for loot, and they played a significant role in Scandinavians' daily lives. We are familiar with a variety of weapons that show how war was fought a thousand years ago. These weapons are discovered by archaeologists in Viking-era tombs, lakes, next to fords, and at combat sites. Each discovery adds a tiny element to the overall picture of Viking combat.
During the Viking Age, swords, axes, bows and arrows, lances, and spears were among the weapons utilized. A handful of the weapons the Vikings used to protect themselves in battle included shields, helmets, and chain mail. The availability of weapons depended on how wealthy the Vikings were. Axes and lances were inexpensive weapons for warriors in the general population, while swords were the expensive weapons of the elite. Nonetheless, there are differences in how the various kinds of tools and weaponry are preserved. For instance, while helmets and chain armor are extremely uncommon to discover, rather high quantities of swords and axes have persisted until the present.
The Viking axe: weapons
With a weapon in hand, every Viking rode the waves and charged into battle. The Viking axe was the weapon of choice for them the majority of the time.
The Viking axes' long handle and a cutting edge that varied in length from 3 to 18 inches, depending on the owner's wealth, offered the user a significant advantage in reach. They were normally fastened in place by a belt and worn around the waist.
Ulfberht, or Viking sword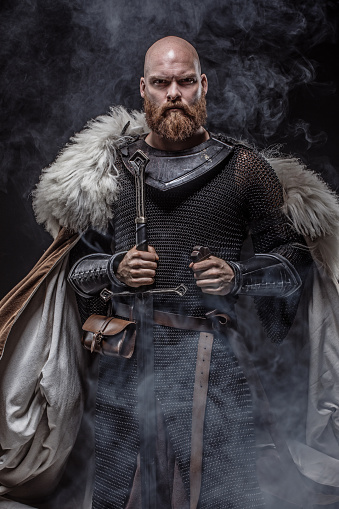 IMAGE CREDITS: istockphoto.com
Vikings were a people who were born into fighting, therefore it should not be surprising that they would not limit themselves to just one type of armament, despite being frequently linked with the axe.
As opposed to the Viking axe, the Ulfberht, or Viking sword, was less frequently seen. Iron was scarce during this period of mediaeval weaponry, therefore it was normally exclusively owned by the wealthier members of Viking society.
The standard Viking blade was still a powerful tool for destruction, nevertheless. The 35-inch-long, double-edged blade was slung over the shoulder and made reachable with the right hand.
Bow And Arrow: weapons
Although close-quarters fighting is what the Vikings were most famous for (and they most certainly were), they were not only adept at it. The bow and arrow, which the Vikings first used for hunting, were soon found to be a potent weapon for defeating enemies.
A proficient Viking archer could fire twelve arrows on average every minute before the inevitable close combat started. The Viking spear, which spanned in length from three to ten feet and consequently came in a wide variety of forms, was one Viking weapon that served both close combat and ranged combat purposes.
The Viking spear: weapons
IMAGE CREDITS: Unsplash.com
The Viking spear, which spanned in length from three to ten feet and consequently came in a wide variety of forms, was one Viking weapon that served both close combat and ranged combat purposes.
While some Viking spears were made to be thrown long distances, others were far more robust and were better suited for close quarters battle.
Knives were the final type of weapon the Vikings carried in their massive utility belts of murder. Even slaves were allowed to possess one of these blades, thus even though they varied in size and quality, they were always within reach during the Viking era.
The affluent members of Viking culture held the Seax, a knife of far greater quality. Compared to the normal fighting knife, it was significantly bigger and more deadly, with an often bent blade. Although the Scandinavian people during this time in mediaeval history most frequently utilized these top 5 Viking weapons, they were by no means the only ones.
The Vikings were incredibly skilled fighters who were more than able to pick up any type of weaponry and use it, if necessary, in an emergency. As many people would have them depicted, the Vikings were much more than just ferocious warriors.
In addition, they were talented artisans who could create gorgeous pieces of art like the Viking longboat as well as defensive weapons.
The Armor of the Vikings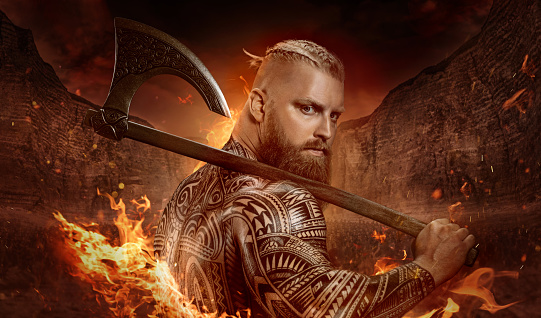 IMAGE CREDITS: istockphoto.com
The Vikings were renowned warriors known for their ruthlessness and cunning who were feared throughout the nations for the destruction they wreaked along the shoreline during the Viking age. Yet, they were not naïve; they understood that in order to maintain their way of life, they needed to arm themselves with shields, helmets, and body armor.
Viking armor was frequently made of heavily cushioned leather, which provided some defense against sharp weapons. The typical Viking frequently donned it to combat. Another popular type of armor at the time was chainmail, which was only worn by the wealthier classes due to the great demand and high cost of iron.
Viking Helmet: weapons
Although not all Vikings wore helmets, those who could did so because the extra protection it provided during close battle saved many lives. The Viking helmet was made of relatively simple materials and frequently had a simple bowl form with a metal nose guard sticking out of the middle
Contrary to common perception, there isn't much proof that Viking helmets actually had horns, despite how frequently they were shown as having them. Horns offered very little extra protection and served only as another object for the enemy to grip onto during combat. No fighter was more practical than a Viking.
Viking shield: weapons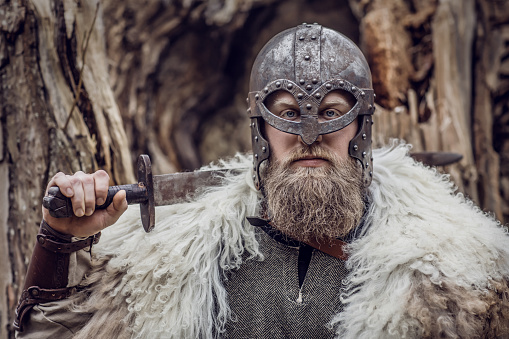 IMAGE CREDITS: istockphoto.com
It's fascinating to learn about the Viking shield's history. Because so few of them have been preserved throughout history, there have been several arguments among historians over how they were built. Some important artefacts have been discovered, providing some answers.
Warriors in the Viking Period raced into battle brandishing shields, which were typically round in shape and varied in diameter from 30 to 35 inches on average.
Typically, a warrior makes their own shield, modifying it to fit their fighting style and size. A Viking shield couldn't be too huge or too little since doing so would make the bearer too exposed or slow. All of the surviving Viking shields are constructed from strong butted planks of spruce, fir, or pine.
USEFUL LINKS:
Keep hovering to know more about Viking weapons:
Learn about investment:
Design the logo for your company: