The best YouTubers who are also entrepreneurs: Business Guide
Entrepreneurs can advertise themselves on YouTube in a variety of original and inventive methods. Youtubers across the working on it.  People want quality content quickly, and watching a quick video is much more time and money efficient than reading a lengthy paper or attending a professional conference. Youtubers help people with this. Many Youtubers create content suited ideally for entrepreneurship. Additionally, there are virtually no restrictions on how you may use YouTube (within reason, of course), which expands your options for showing content. Yes, YouTube is the ideal medium for creating a distinctive brand identity. Youtubers can be a good source of learning.
Gillian Perkins: Youtubers
IMAGE CREDITS: Unsplash.com
A marketing strategist for online business owners is Gillian Perkins. Or, as she like to say, "I develop killer marketing systems that start the sales rolling in." You may view her YouTube channel by clicking here. With her appealing personality and fantastic business advice, Gillian Perkins makes it simple for her to connect with her audience.
The biggest piece of advise Gillian can give those trying to establish a memorable internet presence is to "be uniquely you. But once you've ticked that box, naming things is the finest thing you can do. Give it a name when you create a framework, a concept, or a step-by-step strategy! Putting a name to your concepts and creations helps them stand out and become distinctive.
How can she teach you something?
Each video must to have a distinct purpose and offer helpful advice. Each video you make should have a clear message for your viewers to remember. Prior to starting to write your material, make a decision, and keep it in mind at all times.
Promote your website and the services you provide. Most likely, you have a website. If not, the time has come to purchase one. Your website should be prominently displayed on your YouTube channel so that viewers may quickly find it.
Sugar Mamma TV
IMAGE CREDITS: Unsplash.com
Canna Campbell, a financial advisor, runs Sugar Mamma TV, which strives to give viewers advice and concepts that will help them achieve financial freedom. The channel's mission is to empower, educate, and encourage women to become financially independent. You can check it out here and on Instagram. The effort, care, and emphasis on consistency that go into Sugar Mamma TV's channel definitely set it apart from the competitors. Simple words from Canna for anyone wishing to launch a YouTube channel: "Be ready to devote a lot of time into it. So many individuals rush into creating a blog but abandon it after a few months. I've been working toward this goal for 3.5 years. Weekends, early mornings, and late nights have been given up.
How can she teach you something?
Pick a specialty. The target audience for Sugar Mamma TV is primarily females seeking financial independence. It is simpler to focus and hit the essential points for that target audience when you have a distinct niche.
Important is consistency. With each new video, Canna's audience knows what to anticipate. Each video shows her maintaining consistency in both material and delivery. This makes her audience's comprehension of what they are witnessing clearer.
Carrie Green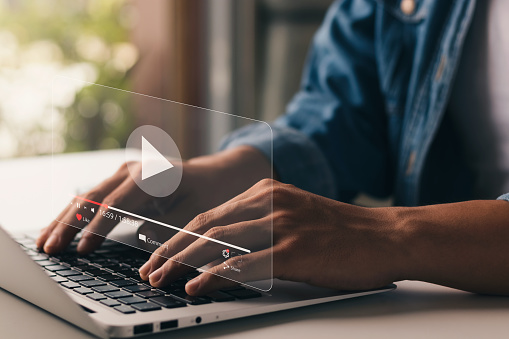 IMAGE CREDITS: istockphoto.com
Carrie Green is a former law student turned entrepreneur who aims to instruct her audience on how to launch a company on a tight budget. She established the Female Entrepreneur Association in 2011 with the intention of locating other driven women who share her aspirations. Visit her YouTube account here. To keep things fresh and educational, Carrie Green's channel combines a variety of practical advice, 'how-tos', tutorials, interviews, and personal vlogs. Her films have specific objectives and offer viewers useful "how to" instructions. Carrie also invites guests and gives her audience extra materials like worksheets to keep things fresh.
Make a video teaser that inspires and drives people. First impressions matter a lot! The first video that appears when someone visits Carrie Green's channel encourages viewers to pursue their aspirations right now.
Maintain a friendly and enjoyable atmosphere. Similar to the aforementioned channels, Carrie keeps her videos very approachable. Vlogs add entertainment value to her content and enable her audience to connect with her personally.
Lavendaire: Youtubers
Lavendaire is a Los Angeles-based lifestyle blogger. Her mission is to support those who follow her in building meaningful lives centered on connection, creativity, travel, and music. Enter her channel right here. With its stunning design and distinctive logo, this channel immediately jumps out. In order to retain her brand identification and to create an upbeat atmosphere, Lavendaire uses vibrant pastel hues throughout all of her videos.
Establish a recognizable brand identity. Make sure your typefaces, color scheme, and style are appropriate for your blog or other social media outlets if you have any. When people visit your YouTube channel from your blog or other social media platforms, you'll want them to know they've come to the right spot.
You must dress the part if you want to act the part. Don't be hesitant to ask for help if you are not an expert in video editing or design, but if you feel secure enough to handle it yourself, make sure your editing and delivery are as professional as possible, especially if you are marketing a specific service.
Ingrid Nilsen
IMAGE CREDITS: Unsplash.com
Ingrid Nilsen offers lifestyle guidance on a variety of subjects. It makes sense that she has soared to more over 3.8 million subscribers with a channel that has developed through time and grown to be incredibly prominent. See for yourself here what all the hubbub is about. Because of how her channel has changed through time, Ingrid Nilsen is exceptional. She is living proof that effort is worthwhile. Ingrid began a YouTube channel in 2009 with a focus on makeup and beauty. Since then, she has transformed it into a lifestyle channel where she encourages her viewers to embrace their unique identities. Ingrid strikes me as sincere and real. When developing a lifestyle channel, this is particularly crucial.
Try to be sincere and true. Being genuine is crucial if you want to succeed in the lifestyle industry. Give your subscribers what they want by exhibiting these qualities in your personality, brand, and delivery. Be willing to change. Even though you may have begun your channel with a specific purpose, you may still expand until you find what works best for your brand.
USEFUL LINKS:
Check out the entrepreneurs who built brand on YouTube
Learn how defend to your product, click
Check out the art of persuading people into investing