HOW TO GROW TOMATOES ON YOUR BALCONY
On a balcony, growing tomatoes is satisfying. Tomatoes can be grown as a balcony aesthetic plant in addition to being used in food and cooking.
The fruits are round or pear-shaped, and they come in a variety of colors and sizes. Their leaves also have an excellent sour aroma. Find out in this post, step-by-step, how to grow tomatoes on a balcony.
SUITABLE TOMATOES FOR BALCONIES
The good news is that all tomato types are excellent for container gardening, although there are some restrictions, such as the fact that you cannot plant indeterminate tomato varieties on a balcony (don't blame us if you think balconies are little). The best course of action is to select determinate tomato types that can be effectively grown nearby and are readily available.
Take cherry tomatoes as an example; they are very care-free, simple to grow, and yield a lot of fruit during the growing season. In addition, there are a lot of other options. Visit a seed store, a nursery in your area, or order online!
IMAGE CREDITS: Utopia.org.com
INITIAL PREPARATIONS
You should use solid, well-drained pots to grow tomatoes on your balcony. Remember that heavy loads of fruit and stems might lead plastic or other light-weight pots to topple over in the wind.
The tomato variety you're planting will determine the container size. However, the diameter and depth must both be at least 12 inches.
Placing them in the sunniest spot on your balcony is a good idea because tomatoes need full sun.
PREPARING SOIL
To ensure a favorable development rate, plant tomatoes in fertile soil. You can either purchase or prepare your own potting mix. Obtain garden soil, compost or well-rotted manure, and gravel or expanded clay for preparing. Remember that the soil should be well-drained, permeable, somewhat acidic (pH 6–6.7), and loamy because tomatoes don't perform well in heavy soil. Additionally, add slow-release tomato fertilizer to the soil to provide periodic nutrition to the plants.
PLANTATION
Prepare your own seedlings or get potted plants from the nursery. Plant tomato seeds once the threat of frost has passed and spring has arrived. (Tomatoes can be planted and grown year-round if you reside in a warm, frost-free subtropical or tropical region.) Within 5–10 days, seeds will begin to sprout. When they develop two true leaves, transplant them into containers.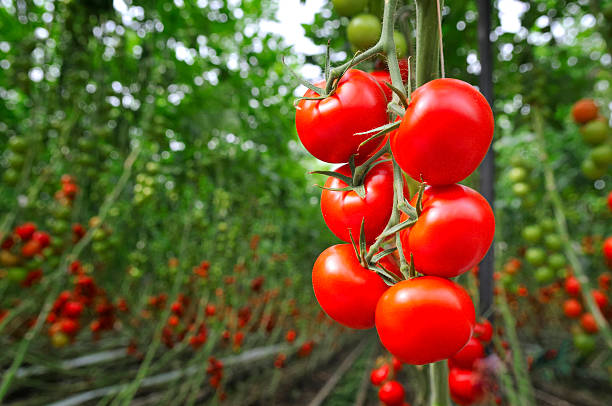 IMAGE CREDITS: istockphoto.com
FERTILIZING: LOOKING AFTER
Because tomatoes require a lot of food, even after using delayed release fertilizer, you'll still need to feed them.
The best time to fertilize tomatoes is when the plant looks lanky and the leaves start to turn yellow, or when there is a lot of foliage development but few fruits or blossoms in comparison.
The key to a high tomato output is to fertilize less frequently but more frequently.
Depending on your plant's demands, fertilize once per week or two.
Follow the directions on the packet before applying liquid fertilizers. It's best to get up early.
Make sure to use a fertilizer that has more potassium and phosphorus. Use organic fertilizers like well-rotted manure, compost, or bio-humus for individuals who value organic crops.
IMAGE CREDITS: https://www.google.com www.gustagarden.com-typical-mistakes-when-growing-tomatoes
WATERING
As balconies continue to be windier than traditional gardens, tomatoes grown there require damp soil all the time.
It is crucial to regularly water tomato plants, even twice on a hot, windy day in the summer. Tomatoes should be watered so as not to wet their leaves. The main cause of blight and other fungal infections is wet leaves. To create deep, extra roots and boost the plant's ability to absorb nutrients, tomato seedlings should be planted deeply, up to the level of the first leaf.
 USEFUL LINKS
To know about vegan recipes, click: https://theperfectblogger.com/vegan-recipes-to-try-at-home/
To know how to bake cupcakes. see: https://theperfectblogger.com/how-to-bake-cupcakes/
For more updates on gardening, stay tuned.