FUTURE OBJECTIVES OF YOUR BUSINESS: YOUR BUSINESS COMPANION
As you establish future objectives of your business, try to work together with your team to identify team strengths and opportunities for progress. Establish the amount of time, effort, and resources that your future objectives will demand, then start planning how you will achieve them. The following are some of the more common goals businesses employ to achieve as a starting point for your brainstorming:
Improve your productivity: future objectives
IMAGE CREDITS: Unsplash.com
Increasing your entire market share entails selling more goods or services to clients. To identify even more potential clients, make a list of your clients and contacts and use it. The greater your market share, the more customers are using the merchandise.
Ask the sales staff to expand their network if they are targeting other firms by identifying potential customers for this product. If you work for a smaller company, think about contacting local residents or other organizations that might find the product useful.
Improving team's leadership skill
Strong team leaders motivate and foster development. An organization can gain a lot from these talents, whether leadership training opportunities are provided to lower-level employees or executive staff members. By offering them opportunities, the staff would feel motivated.
Your employee's satisfaction: future objectives

IMAGE CREDITS: Unsplash.com
If employees love their jobs, they are more likely to submit worthwhile projects and ideas. Your corporate goal should therefore be to increase employee satisfaction in order to decrease staff turnover. Think of providing team members with value in the form of competitive compensation, advancement chances, scholarship programs, special benefits, or flexible work hours.
Reaching to community members
Being involved and active in the community is a terrific way to meet potential local clients. It can also help you create stronger connections, foster trust, and increase brand recognition. with prospective clients. This works particularly well for start-ups because it gives them a chance to meet the locals and establish long-lasting relationships.
Try increasing or maintaining profit
IMAGE CREDITS: Unsplash.com
Over the first few years, keeping a constant profit can be difficult, especially for new enterprises. A good strategy to make sure a business maintains its financial stability is to set an aim with corresponding supporting goals for retaining earnings.
If your company is already established, think about creating a thorough goal for boosting earnings by coming up with and putting into practice fresh ideas for how to increase sales and generate more revenue.
Working on customer service: future objectives
Create a goal that inspires by providing rewards to both your employees and your customers to ensure that customers and clients have a great experience with your team.
Every time you connect with customers, be sure to emphasize how essential a fantastic customer experience is. By doing this, you'll motivate your staff to take on those difficulties and earn the respect of your clients.
Making new customers: future objectives
The development of new customers is another excellent business objective. You will inevitably lose some of your current consumers. Hopefully without your fault. Therefore, it is wise to seek out new clients. and incorporate them into the group. So, tie customer acquisition. directly into the objectives of the employees at your firm who are in charge of sales.
Resources to boost your productivity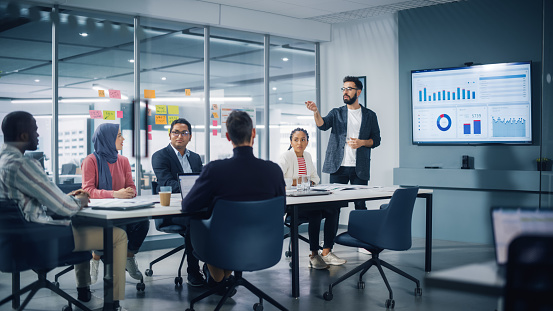 IMAGE CREDITS: istockphoto.com
There are several tools available to assist your business become more productive. For instance, you may use HR technologies to assist your management and HR teams in completing fundamental duties like hiring and recruiting, time management, onboarding, training, and learning and development. By streamlining several activities, productivity tools free up you and your team to concentrate on more ambitious objectives.
Growing your organization: future objectives
Setting goals to grow a business can take many different forms, such as increasing the number of current clients, working from a bigger office, or adding additional staff. An organization is more likely to be successful and to be operating well if it is growing.
Message of your brand name
Customers frequently associate a company's product or service with its brand, which sets it apart from its rivals. Think about brainstorming with the sales or leadership teams to develop a new brand or reinforce an existing one. Strive to keep your brand voice and messaging consistent across all of your sales and marketing materials.
Your company's value: future objectives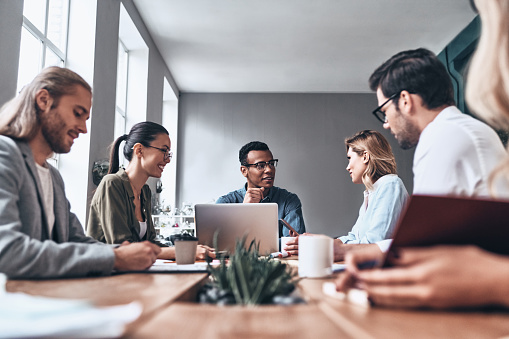 IMAGE CREDITS: istockphoto.com
Profits and reputation are significant aspects that help categorize a company's overall value. Shareholder interest and dedication to the company will rise as the business's worth rises. This can frequently ensure that a company maintains greater financial stability and shareholder backing.
Improving products and services
Less complaints and more favorable feedback from customers and clients should result from a company improving the quality of its goods or services. This may also encourage customers to suggest your goods, which boosts brand recognition, customer retention, and business reputation.
Innovative content: future objectives

IMAGE CREDITS: istockphoto.com
Being a thought leader in your sector is a terrific strategy to achieve bigger business goals. By regularly producing industry-related information like blog posts, white papers, or eBooks, you can improve the quality of your customers' experiences by educating them. You will develop greater trust and attract more potential clients as you produce more high-quality content.
Reliability of your product
A great objective for managers and leadership teams is raising product reliability. Start by talking to the group that creates your items. Establish quality and troubleshooting goals to find potential improvement areas. With the aid of this information, you'll be able to consistently provide updates and enhancements in accordance with the needs of your customers.
Importance of business objectives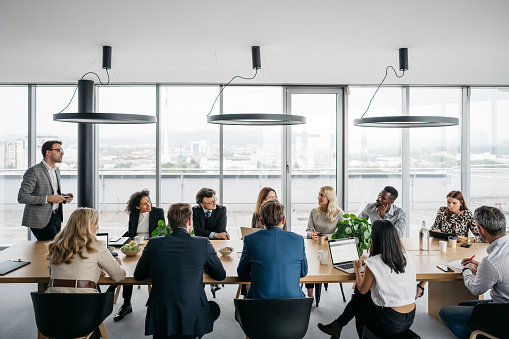 IMAGE CREDITS: istockphoto.com
Each company has a finite number of resources. prioritize focusing on focusing on focusing on focusing on. Setting goals plays a role in this because by setting and achieving goals successfully. You direct your employees' efforts toward the appropriate tasks. That helps the organization's overarching goals. In other words, goals aid in coordinating resources at all levels and throughout the company.
USEFUL LINKS:
Make your business objectives clear, click below:
Set your business goals by clicking below:
Influential landmarks in the corporate world, see:
Your book-chef is here. Click to know best cookbooks
Discussing ideas at a conference can be learned, see: