COOKING WITH YOUR KIDS
You can't just force kids to eat their vegetables if you want to raise an adventurous eater. It requires care and persistence to raise a child who can appreciate a cantaloupe as much as a cupcake, but it need not be a chore. For children to get over their fear of trying new foods, it may be necessary to expose them to joyous culinary experiences on a regular basis. Cooking with your kids can gradually boost their self-assurance while also offering rich sensory experiences. A cheerful, adventurous eater with some very useful life skills—and plenty of good kitchen memories—will be developed over many years with the help of family cooking. One day, with enough practice, your kid will be able to prepare a delicious supper for YOU!
Use your other senses
IMAGE CREDITS: Unsplash.com
It might occasionally be scary for a reluctant eater to taste a novel meal. When cooking with your child, encourage them to use their senses other than taste to discover the meals. By doing this, you can create favorable connections with food. All of these tasks require touching food and comfort with texture, such as kneading dough, cleaning vegetables, and tearing lettuce. When we eat, our tongues' taste receptors and noses' smell receptors work together to create the diverse flavors we experience. Some kids could feel overwhelmed while cooking with unfamiliar ingredients. If this occurs, you might propose that they smell the meal first; this could act as a bridge between smelling and tasting in the future.
Educate children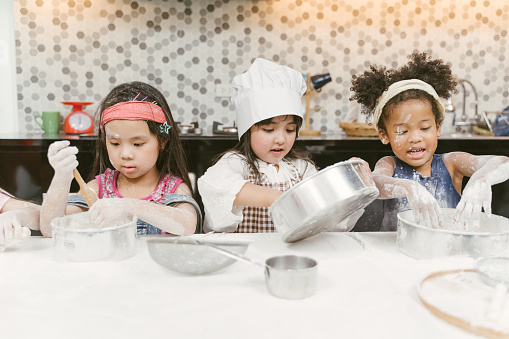 IMAGE CREDITS: Unsplash.com
Cooking may be a great way to teach a lot of lessons. When following a recipe with youngsters, math ideas like fractions, measurement, and counting easily come into play. Excellent science lessons include describing how food changes with temperature or how specific meals can support a healthy body. Practice new words when you describe the appearance, texture, and flavor of food while cooking with your child. The ability to plan and complete undertakings is developed by following a recipe from beginning to end.
Embrace cooking as a family tradition
Cooking together in the kitchen might serve as the beginning of a family meal. By handing down recipes, family meal preparation provides an opportunity to commemorate your cultural background. To expand your repertoire and family cookbook, assist your children in discovering new, seasonal recipes. You may set an example for your children by cooking together and choosing health over convenience foods. This will encourage them to adopt a healthy lifestyle. Building family traditions around cooking together on a daily and seasonal basis helps your family stay more committed to living a healthy lifestyle.
Safe cooking
IMAGE CREDITS: Unsplash.com
By demonstrating proper tool handling, using oven mitts to shield hands from heat, and safe appliance on/off techniques, you may teach kids the value of remaining safe while they are cooking. To ensure kids are staying with safe and age-appropriate duties, always watch over youngsters when they are cooking. Knowing your child's capabilities and developmental stage is the greatest approach to ensure that cooking is safe for them. For instance, a four-year-old child might not be able to sauté veggies over a hot skillet, but they might have the fine motor abilities to clean fruits or tear salad leaves. It is simple to involve youngsters, especially toddlers, in the cooking while keeping safety in mind.
Seek feedback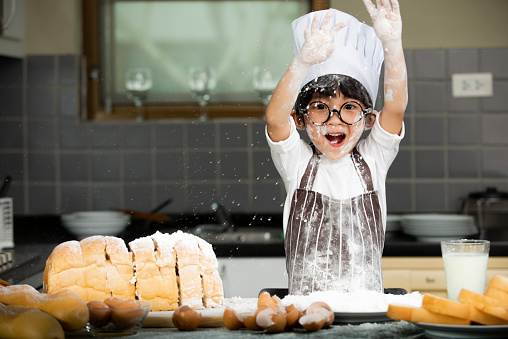 IMAGE CREDITS: Unsplash.com
When invited to help with dinner preparation, children experience a greater sense of inclusion. Choose main dish or side dish recipes in conjunction with your children. Let them assist you in creating a shopping list, shopping at the supermarket or farmers market, and finding groceries. Children should be allowed to comment on the foods you are preparing when you are cooking together. You can select together which components to include improving the flavor. Discuss how different tastes are enjoyed by people and discuss your personal preferences with one another. Giving kids control over little things like how to arrange the table will make them feel more involved in meals.
Healthy cooking
IMAGE CREDITS: Unsplash.com
Having a hard time encouraging your kid to eat vegetables? To make vegetables more appealing to young children, find entertaining, healthy dishes that frequently hide the veggie. Do you enjoy eating kale chips? Your kids might surprise you and appreciate them if you make them with them. In contrast to the veggies on their dinner plates, kale chips are crunchy and flavorful like other chips.
Cooking builds confidence
Your child's feeling of self-worth, confidence, and self-esteem can be fostered in the kitchen. Giving kids cooking lessons offers lots of chances to praise and appreciate their efforts. When children believe they have successfully made a meal for themselves or their family, they feel a wonderful sense of accomplishment.
Cooking as an adventure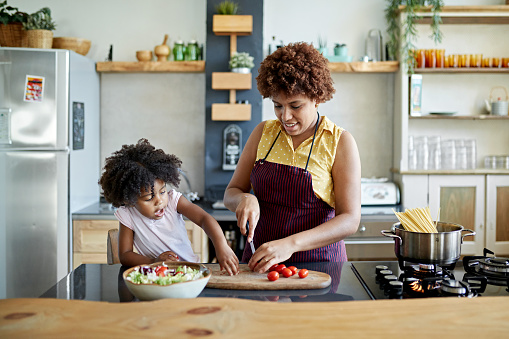 IMAGE CREDITS: Unsplash.com
Being in the kitchen with them while you prepare meals can encourage picky preschoolers to try new foods. If you just served her the food, your 3-year-old might not try it, but when she pretends to be the chef, she might. Therefore, let them try the new things you're using and talk about what they like and how eating well helps the body develop.
Getting started
Preschoolers are discovering how much they can accomplish on their own, from riding a tricycle to getting dressed. Therefore, seek for a few cooking-related tasks that your child can complete on their own or with just a little assistance from you. Most toddlers can handle simple chores like adding liquid to a bowl, putting cheese on top of a casserole, or using cookie cutters. Avoid creating a complex project because your youngster might just want to spend five to ten minutes on an activity. Keep it fun and small at first.
USEFUL LINKS
To know some interesting facts about food, see: https://theperfectblogger.com/interesting-facts-about-food/
Nutrition for children is very important. To know more about it, visit: https://theperfectblogger.com/proper-nutrition-for-children/